Browse:
Home
/
Live Reviews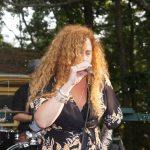 By Bill Copeland on September 11, 2017
HeatherFest 23 brought a day of good music and charitable causes to New England blues fans. For those in the blues community who still don't know, HeatherFest is an annual backyard party/blues music festival behind the spacious home of Norton, Massachusetts resident Heather McKibben. McKibben lines up several blues each year, requests a $25 donation on the way in, and allows charities to set up tents and kiosks on one side of her tremendously huge back lawn. Yesterday, a woman named Sara Tagget from a suicide prevention group, Katrina Tagget Memorial Foundation, made a stirring speech about helping others who may be in despair. The foundation was named after Tagget's daughter who was lost to suicide in 2008.
Posted in Live Reviews | Leave a response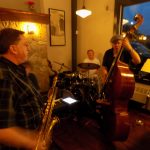 By Bill Copeland on September 6, 2017
Blue Duchess recording artists The Evenfall Quartet were missing a couple of its members at last night's continuing residency at The Fairmount Grille in Hyde Park, Massachusetts. Saxophone player Arnie Krakowsky filled in for Mark Earley and piano player John Mulroy subbed for Joe "Sunny" Barbato.
Posted in Live Reviews | Leave a response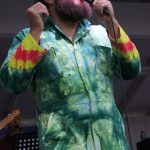 By Bill Copeland on August 28, 2017
A good vibe was in the air yesterday in Marshfield, Massachusetts. The second day of the 22nd North River Blues Festival at Marshfield Fair offered a lot of variety as well as quality music. From the opening act to the headliner, yesterday's North River Blues Festival, hosted by local blues radio personality Holly Harris, moved along with energy and nary a hitch and that keeping the vibe flowing from noon until past the 8:00 p.m. finale.
Posted in Live Reviews | Leave a response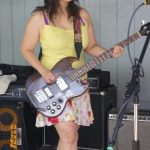 By Bill Copeland on August 22, 2017
Tokyo Tramps have come a long way in their 20 year journey into American blues music. They've incorporated many Americana roots elements into their sound, and they're looking to take things to a higher level. They have an artist representative who attends their shows, and a label in their home country of Japan is considering […]
Posted in Live Reviews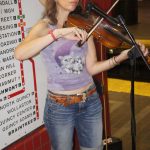 By Bill Copeland on July 31, 2017
Ilana Katz Katz is a professional Boston-based musician who has never lost touch with her roots. Unlike many singer-songwriters and solo musicians who begin their careers playing the subways, fiddler-singer Katz never lost her affinity for playing the Red Line's Park Street Station. So, it made perfect sense to capture her live in one of her favorite performance areas. Katz's Friday morning subway gig was a lively affair to remember as she sang and played her fiddle through her small CRATE amplifier.
Posted in Live Reviews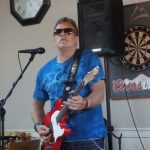 By Bill Copeland on July 17, 2017
Blues guitarist Chris Fitz and blues drummer Steve Peabody have been hosting their Sunday Funday blues jam at Brodies's Seaport Café in Salem, Massachusetts for several years now. Last night's jam showed what great things could happen when they invite superstar locals musicians. Guitar ace Ricky King Russell and journeyman bassist Bob Worthington joined Fitz […]
Posted in Live Reviews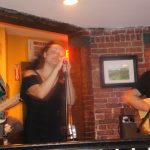 By Bill Copeland on June 13, 2017
Like chocolate and peanut butter, some great things go great together. Sweet Melissa, who usually plays out with blues guitarist Chris Stovall Brown, was the featured singer at last weekend's Sunday Live Blues show at Terry O'Reilly's Irish Pub in Newton, Massachusetts. Coincidentally, Chris Stovall Brown is usually part of the Sunday Live Blues house band at the Newton pub, so it was a sort of Sweet Melissa with Chris Stovall Brown reunion show.
Posted in Live Reviews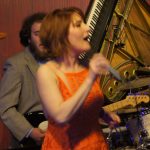 By Bill Copeland on June 12, 2017
Laura Vecchione has an animated presence on stage. Always in motion, Vecchione rocks to her rocking music and she never runs out of energy. That's a necessity, as she's an artist whose songs move with the manic motions of something that could last forever. Everyone in attendance at last Saturday night's show at Ryles Jazz Club in Cambridge, Massachusetts seem glues to her every move.
Posted in Live Reviews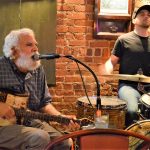 By Bill Copeland on May 21, 2017
The Cannibal Ramblers are not your typical blues band. With only a guitarist and a drummer, Boston and Providence-based Cannibal Ramblers whipped up some tasty, old fashioned dye in the wool blues with their own special compositions at Mercy Tavern in Salem, Massachusetts last night. There's never a dull moment when these two guys are in a room, and last night's grand opening of the Mercy Tavern on Derby Street was no exception.
Posted in Live Reviews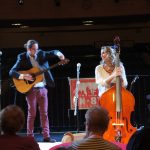 By Bill Copeland on May 15, 2017
Damn Tall Buildings made a fine headlining act at this season's final OnStage! Show at Medford's Chevalier Theatre last Saturday night. With their speedy, breakneck pacing, Damn Tall Buildings kicked all of their songs into high gear while displaying their highly skilled individual strengths and their highly disciplined ensemble work.
Posted in Live Reviews