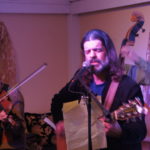 By Bill Copeland on December 19, 2016
Steve Pelland's CD Release Party in the Ballroom at The Bull Run Restaurant in Shirley, Massachusetts was a fine testament to Pelland's emerging presence on the greater-Boston/New England singer-songwriter scene. Celebrating his recent These Days release, Pelland displayed plenty of guitar magic just during his sound check. He has a way of making his acoustic guitar waltz all over his fretboard.
Posted in Live Reviews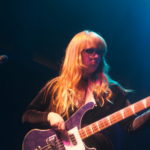 By Bill Copeland on December 9, 2016
Last night's Boston Music Awards at House Of Blues offered several good performances from local bands and hip hop artists. Hosted by Dorchester comedian Lamont Price, the show had a non stop feeling of energy emanating from the music makers and the laugh maker.
Posted in Live Reviews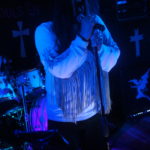 By Bill Copeland on November 14, 2016
Souls Of Sabbath put on a fiercely successful show at Quincy's Pete's Bar & Grill last Saturday night. From their opening "War Pigs" to their closing "Paranoid," this much above average Black Sabbath tribute band conjured the vibe of that kind of music as well as nailing the material note for note, dynamics, colors and tones.
Posted in Live Reviews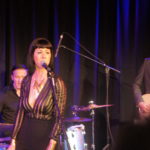 By Bill Copeland on October 11, 2016
Ruby Rose Fox band won over several new fans at Portsmouth Music Hall Loft last Saturday night. Playing to an enthusiastic listening room crowd, Ruby Rose Fox and her backing singers, known as the Gloria Steinhams, and her five piece band had audience members expressing mucho applause before receiving standing ovations after the end of the second set as well as at the end of their encore. This wasn't her four year old Boston fan base giving her mad love. These were music fans in another city an hour away from Boston who were seeing her for the first time.
Posted in Live Reviews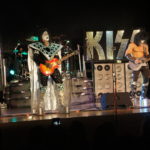 By Bill Copeland on September 26, 2016
There is nothing in rock and roll quite like a Kiss concert. There's nothing quite like a Kiss concert but a few good tribute bands have come somewhat close to approximating the experience. Malden, Massachusetts based KISS Forever performed a fundraising concert at that city's high school auditorium last Saturday night. The band offered plenty of lights, flash, and good costuming. More importantly, KISS Forever had the Kiss sound down pat. Aside from the show, they're also good musicians who know what they're doing, melodically and rhythmic.
Posted in Live Reviews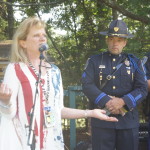 By Bill Copeland on September 15, 2016
Escaping the rains that plagued last year's event, HeatherFest22 went off with out a hitch last Sunday afternoon. With Racky Thomas again serving as Master Of Ceremonies and leading the side stage action, HF22 moved forward with a fantastic mix of blues, R&B, soul, and funk. The lineup of outstanding bands performed during that day of positive vibes that sprang from charitable giving and patriotic reflections on the anniversary of September 11 as well as from a stirring speech from a local police sergeant. HeatherFest, essentially, is a backyard barbeque with a stage set up for blues bands with representatives from local charities on hand to donate to.
Posted in Live Reviews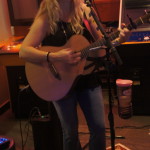 By Bill Copeland on September 12, 2016
Gay Barboza is the Attleboro area's best kept secret. Possessing a particularly strong voice and all the subtle nuances that go along with it, she's also a singer-songwriter with an ear for the right sound and a mind for all the perceptions and expressions to bring them to life. This had made her a sort of crown jewel in her local music scene in that area between Milford, Massachusetts and northern Rhode Island. While Barboza isn't as well known outside her local scene, she has all the bells and whistles of someone who could play out in the greater-New England singer-songwriter circuit.
Posted in Live Reviews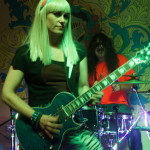 By Bill Copeland on September 7, 2016
Lovewhip has been playing out for almost two decades now. They've also been playing at Fury's Publick House in Dover, New Hampshire for several years too. The combination of Lovewhip and a New Hampshire seacoast venue with a clientele open to original music worked out well for both last Saturday night. Pulling in a good amount of fans on a holiday weekend, Lovewhip kept people dancing, bobbing their heads, and applauding all night long.
Posted in Live Reviews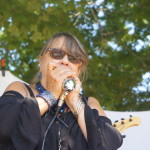 By Bill Copeland on August 30, 2016
Day two of the North River Blues Festival at Marshfield Fair was a well managed event. It was also one that gave an idea what heaven might be like when we get there: several hours of outstanding blues bands all in a row. Paul Speidel Band, Tony Soul Band, Neal And The Vipers, Kenny Neal, and Sugaray Rayford along with side stage band Basic Black featuring Cheryl Arena treated a huge turnout to fine renditions of standards as well as some of their own original material.
Posted in Live Reviews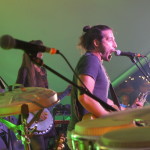 By Bill Copeland on August 29, 2016
Adam Ezra Group whipped up some exciting music at their seventh Ramble on Salisbury Beach last Saturday night. An event which raises funds for veterans related matters, AEG headlines it each year after organizing those who support the cause and a bunch of other bands who play on either of two stages set up for the event. Adam Ezra and his band mates, with special guests made up of those musicians who played earlier, created plenty of sparks with their solid songs.
Posted in Live Reviews