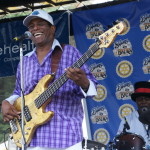 By Bill Copeland on August 22, 2016
Last Saturday's Blues N' Brews Festival at Nashoba Valley Ski Area found blues fans and beer fans braving an unexpected 40 minute rain fall before resuming the festivities. It takes more than a little rain to keep people away from good blues and good beer. Saturday, being the first day of a two day BluesNBrews Fest, had something special for each person. WZLX's Carter Allan was a perfect host for the day. His knowledge of blues and his gentile personality went over well with the demanding blues crowd that patiently awaited each act.
Posted in Live Reviews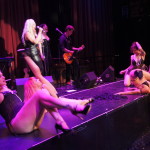 By Bill Copeland on July 11, 2016
An incredible vibe could be felt at last night's Strip Zeppelin show at Cambridge's Oberon cabaret style theater. The venue, part modern discoteque, part old time showroom where people are seated cabaret style, was the perfect performance space for this Niki Luparelli concoction. Luparelli had a full band performing Led Zeppelin songs while burlesque dancers […]
Posted in Live Reviews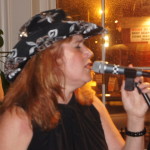 By Bill Copeland on July 10, 2016
Juliet Simmons And The Lonesome Romeos played sans drummer last night at The Book And Bar in Portsmouth, New Hampshire, a last minute adjustment that they adjusted to very well, proving that good songs can work well in any musical combo. Simmons proved an exceptionally gifted singer too. The things that girl did with her […]
Posted in Live Reviews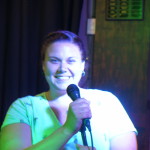 By Bill Copeland on July 8, 2016
Attention all musicians and music fans. You have got to know about this jam and venue in southern, New Hampshire. Last night's Thirsty Thursday Open Mic and Jam at Auburn Pitts in beautiful Auburn, New Hampshire was a fun time for all. Musicians and singers who came from several miles in all directions got a chance to get up and do their thing, offering a variety of genres, blues, country, and modern rock.
Posted in Live Reviews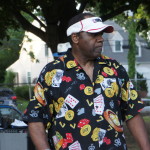 By Bill Copeland on July 7, 2016
Tomi's All Star Blues Band put on a good show last night at the Payson Park Music Festival, a Belmont, Massachusetts program in its 26th year. The blues band was playfully named after Tomi Olson, a resident who founded the program and organizes these music events each year, mid-June through late August
Posted in Live Reviews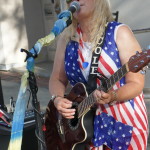 By Bill Copeland on July 6, 2016
Nicole Knox Murphy performed a couple of sets of originals and covers outside Penuche's Bar & Grill in Manchester, New Hampshire last Saturday night. Murphy's backing tracks drew a mixed response from this reviewer. Sometimes they were warm and appropriate. Other times, she would've been better off just accompanying herself with her acoustic guitar. Nothing, though, could distract from the pure, wholesome beauty of her voice. Combining a bright, soft timbre with strong emphasis and projection, she seemed like someone who should've been signed and famous long ago.
Posted in Live Reviews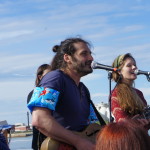 By Bill Copeland on May 24, 2016
As they do every year, Adam Ezra Group sailed around Boston Harbor on the Provincetown II last Sunday afternoon with about 750 fans cheering them on as they played through several of their original songs and arrangements. A day after some of the band' equipment was stolen from their van, surprisingly good weather one upped dreary weather reports and the musicians and their Sunday afternoon fans had one fine day.
Posted in Live Reviews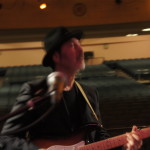 By Bill Copeland on May 17, 2016
Some tribute shows come across like a work of art. Boston's Peter Parcek and his trio along with special guests paid a glorious tribute to B.B. King as part of the On Stage series at the Chevalier Theatre in Medford, Massachusetts last Saturday night. By placing the band at the end of the stage with their backs toward the audience seats, the On Stage producers created a café style seating arrangement for patrons sitting on stage with the band. Last Saturday night's show was packed, making the tribute a success financially as well as artistically.
Posted in Live Reviews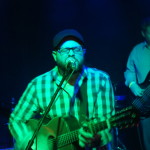 By Bill Copeland on April 18, 2016
Frank Viele Band played a lively set at the Spot Underground in Providence, Rhode Island last Saturday night. Coming off of two wins in the New England Music Awards the previous week, Viele and company seemed emboldened by their latest recognition. They play several songs from their latest full length CD, Fall You Way, which, incidentally, won a Producer Of The Year award for their producer Vic Steffens at the same awards show.
Posted in Live Reviews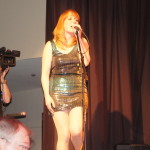 By Bill Copeland on April 11, 2016
The fifth annual New England Music Awards was a tedious affair. The sounds system at Blue Ocean Music Hall was terrible, often dropping singers or instruments out of the mix or having them too low. The hosts were boring as hell, unless you don't mind a pseudo-island Rastafarian with dreadlocks lecturing you on how you need to enjoy your life. Yeah, it got that bad.
Posted in Live Reviews