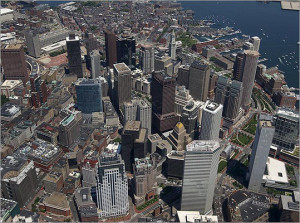 Has anybody noticed that a hole big enough to drive a truck through appears every year at the New England Music Awards? That is because there is hardly any artists from the Boston music scene listed among the nominees.
Out of 103 nominations, only 29 are from the Hub. (This excludes the "Best In State" category for each state other than Massachusetts). That is interesting. Boston is the most busy music city in New England and it has the most musicians, as numerous singers and players are all drawn to the Hub from around the country and around by the world by Berklee College of Music and the New England Conservatory.
Many long time participants in the Boston scene have told me that they could bar hop all weekend long and continually run into quality bands that they have never seen or heard of before. If Boston's music scene suffers from any problem at all, it would be that there are too many bands for the number of clubs located in and around the city.
So, why is New England's largest music city barely involved in selecting nominees for the New England Music Awards? There is no clear answer. New England Music Awards president Joe Graham says the problem is a lack of interest and participation from those who work behind the scenes in greater-Boston.
"There is a large number of those in the Boston area I would call industry types or those with the 'pulse' of the Boston music scene, local DJs, writers, talent buyers, and talent managers, all from the Boston area," Graham said. "But, for reasons unexplained, when the ballots get sent, they never seem to reply, I have no answer as to why that is."
Massachusetts does, in fact, have the largest number of acts nominated for a New England Music Award this year, as can be expected from the region's most populated state. Yet, most of those Massachusetts artists are not from the Boston, Cambridge, Arlington, and Somerville area.
With Boston being such a busy music city, with so many musicians in that urban area, one must wonder why Boston is not leading the NEMA charge. Why is, what Graham calls the Boston "pulse," not supporting their own city's acts in the New England Music Awards?
Why are they not even talking about it?
Like most awards organizations, NEMA does not publish its list of nominating committee members. So, we really cannot be sure which music scenesters from Boston receive the NEMA ballots and or who from Boston actually submits to NEMA the ballots with a list of suggested nominees.
One thing is certain. By not responding to the NEMA ballots that they are being asked to fill out, those Boston music industry officials are doing a grave injustice to the city they claim is the center of the region's music scene. They are hurting the acts and the bands they wish to celebrate. This could be a band's chance to increase their visibility and to expand their audience outside of the city.
Graham indicated that early on in NEMA's history, the awards ceremony took place as the same night as the finals for The Rumble, a long time, Boston-based battle of the bands style contest that was initially hosted and sponsored by Boston's rock radio station WBCN.
Does Joe Graham feel that Boston music media sources report a reasonable amount of news about the New England Music Awards?
"The following year we moved our date to February as to not conflict (with The Rumble), but it didn't matter as far as any press coverage from Boston sources," he said. Graham indicated that Boston-based Vanyaland once ran a mention of the New England Music Awards, two years ago. He said he has not been interviewed by anyone from the Boston Globe, Boston Herald, The Noise, Metronome Magazine, or Northeast Performer Magazine in the five years he has been presiding over NEMA.
"I have not spoken with any of them," Graham said.
So, there you have it, gentle readers. The New England Music Awards is, for all intents and purposes, ignored by the Boston music industry and nobody has any idea as to the reason for this.

Follow me on Social Media!