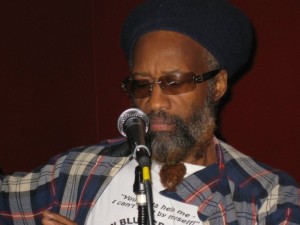 Many have seen him hosting open mikes and organizing music events around Cambridge. This wiry man who carries himself like a 30 year old sings and plays drums at the same time, rocking a room with smooth professionalism. Sir Cecil, as he calls himself, has been on the Boston music scene for 35 years. He moved to the United States from Great Britain in 1976.
Currently, he works as a free-lance musician. Although he would not reveal his age, except to say he is older than mahogany, his career began in London, England in the 1960s. Lately, he has been excited about one of his older bands. An album he recorded in 1970 is selling on Ebay for hundreds of dollars, and it has been listed in Record Collector Magazines Top Ten must own albums.
After teaming up with four other top notch players to form a group called Someone's Band, the outfit released their debut and only album on Deram Records, a progressive label in London that also had signed Cat Stevens and Ten Years After. Deram was owned by Decca at the time and it now belongs to Universal Records.
It was 1970 when that album was initially released. Sir Cecil was the lead singer, but he didn't do any of the drumming, even though he was an accomplished drummer by then.
The band consisted of people who are well known on the other side of the Atlantic. Drummer Woody Martin had played with top London jazz musicians. Bass player Terry Powney is now a Californian recycling old vintage cars. Guitarist John Coxon played lead and rhythm. Guitarist Melvin Buckley also played lead and rhythm guitar and he co wrote the songs with Sir Cecil and Coxon. The drummer wrote one song called "Manhunt."
The original album back cover apparently got Sir Cecil's name wrong. "On the album cover somebody wrote Cecil Jones. In the music business, it's James," he said. "Somebody wrote something wrong by saying Cecil Jones, but it's not. It's Cecil James."
The album was produced by Steven Stevenson who had been a right hand for Robert Stigwood.
Someone's Band broke up shortly after they released the debut album. "It's a long story. Somebody in the office was…whatsoever," Sir Cecil said, interrupting his own recollection. "If you go online and check out Someone's Band, you can read a little bit about some of the articles. Record Collector Magazine have an article."
Sir Cecil has heard recently through the grapevine that the Someone's Band album might go on the market again. "Deram Records is going to re-release Someone's Band and all the other bands that were on the same label," he said.
"Today, Universal Records owns Someone's Band thing. There's a record company in Germany called Rocking Beat Records. I think they've been bootlegging the album. The album is number three in Top Ten of Record Collector Magazine's records you should own."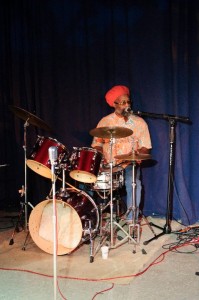 Sir Cecil was delighted and surprised to see that someone put the entire album on YouTube. "For now, I'm letting everything ride, letting it stay where it is on YouTube. The whole album is on YouTube now. You can listen to the album, different tracks."
Despite this recent activity surrounding his old album, nobody has sent him any royalties. "So far, we haven't collected a fucking dime," Sir Cecil said. "What I did was, all the songs I've written, I'm a member of ASCAP. I'm trying to find out who owns the actual master tapes so I can buy the whole ship. There's a friend of mine in Germany who works for a record label. He's trying to find out from Universal Records who owns the master tape, I want to see if I can buy the whole thing."
Sir Cecil said it takes time for a band to receive royalties for old recordings. "RockingBeatRecords.de is listing the album as being sold and somebody is selling it on Ebay for $1,800," Sir Cecil said.
Sir Cecil recalled the old days when the Someone's Band album was recorded. "At the time I made the album, it was very progressive," he said. "Musically, it was different. It's not like you're walking down the street and you're just looking at one street. It's like every corner you come to, it's like a different music. You're gonna get a country song on there. You're gonna get a blues song on there. That's why it's called Someone's Band."
Sir Cecil added that there really was no leader of the band because whoever wanted to write a song could write one. Sir Cecil, though, was the founding member who gathered the band together. His history, though, dates back even early in British rock music history. Before Someone's Band Sir Cecil had recorded an album with C Jam Blues in 1965 on the Columbia Records label.
C Jam Blues was a four piece band that recorded in E.M.I studios and Abbey Road studios. Sir Cecil recorded the song called "Candy" by Steve Cropper and Isaac Hayes. It was done basically as a demo but "They liked it so much they released it as a single," Sir Cecil said. "The B side was written by Melvin Buckley and Andrew Lauder." Lauder went on to sign U2. Lauder was in charge of A&R for Liberty Records in London. Lauder got C Jam Blues onto BBC radio through out England, including progressive radio show Sound Of The 70s in London.
Sir Cecil's C Jam Blues was famous in blues and jazz circles. "We was actually a famous band just by the name itself because 'C Jam Blues' is a song written by Duke Ellington, and all these jazz musicians know that. So, when you mention C Jam Blues in England, people will go 'Oh, ya, I know that band.'"
Sir Cecil played all of the top clubs in London, The Marquee Club, The Flamingo Club, and many more. As an old friend of Ginger Baker's, Sir Cecil got to open for Cream. Sir Cecil also opened for Edwin Starr who had a hit with "War." Cecil, going further back, sat in with Ray Davies before The Kinks were known. "I was in Hamilton King's blues band, and Ray Davies used to be part of the band. I used to go in and sort of mess up the rehearsals. When I walked in, people would go 'Cecil's there. Watch out. He's gonna take over again.'"
Sir Cecil said people still get paranoid around him if they don't have confidence in themselves. Yet, he maintains that he isn't looking to steal anybody's show. He is only in competition with himself.
Cecil made a lot of records with many other artists. "I recorded for Dick James Music. He's the guy who used to own Elton John's stuff," he said. Studio work for Dick James Music studio involved backing vocals. Although he takes pride in being in the thick of it all in London's 1960s, Sir Cecil dismisses the British Invasion as the cousins coming over from America to visit their ancestors. He said the "heavier" sound of Jimi Hendrix, The Who, and Cream was not heavy but that they just turned up the volume on their amplifiers.
Sir Cecil is still known in Great Britain. "In England, I'm known as C Jam because of the C Jam blues," he said. "Everybody used to call me C Jam and say 'that's Cecil'. I was the lead singer of the original C Jam Blues."
Sir Cecil was also a drummer during those days but his work was always as a singer. "I've always played drums," he said. "I'm usually a front man." He eventually became his own drummer much later in his career because he was not impressed with many of the drummers he worked with. "Sometimes I have all these bad drummers play behind me that I just go 'Wait a minute! Sit down!'"
Sir Cecil came to the United States in 1976. He just wanted a change and he found plenty of work in Boston. Many years ago in Cambridge there was a festival called the Central Square World Fair. Sir Cecil was a booker for some of the event's multiple stages there.
In the 1990s Sir Cecil got even busier in Cambridge ."I used to have a showcase every year at the Middle East club," he said. "It was known as Sir Cecil's Boxing Day Showcase. I had different bands." For a while, Sir Cecil was being called The Mayor Of Inman Square. He said he thinks it was Ed Scheer of The Love Dogs who came up with that moniker. Sir Cecil also ran a Saturday afternoon jam upstairs at the Middle East, encouraging the musicians to bring their children. Occasionally, Sir Cecil still appears at the Monday night open mikes with Geoff Bartley at the Cantab Lounge.
Sir Cecil accompanies himself as a soloist on acoustic guitar at open mikes, and he his now locally known for his song "What You Like About Me, They Call Me Bad Boy." Everybody asks him who the song is about. He said it is simply about a bad boy. A few years ago Mama Cass from the Mamas And The Pappas was about to record one of Sir Cecil's songs, but she passed away. When after that depressed him, Sir Cecil said, "Well, ya know, life goes on."
Two years ago, Sir Cecil played the soundtrack for a local indie film called Walls Have Ears. He played drums on the soundtrack with Shorty Billup. When the movie starts, the first thing you can hear in the movie is Sir Cecil's drums. "It's cool," Cecil said. The recognition didn't faze him as he used play on live broadcasts for the BBC.
When asked who his idols and influences in music are, Sir Cecil said everything he learned in music came to him naturally without listening to famous players. "Those people don't mean nothing to me," he stated flatly.
Sir Cecil is on Facebook as Cecil Rednelllac

Follow me on Social Media!