Browse:
Home
/
Chick Bass Players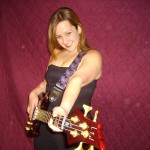 By Bill Copeland on March 27, 2010
Chick bass players are a growing trend. More and more female bassists appear on the music scene. In the last 30 years the trend has changed from girls studying cello, French horn, and piano to girls rocking out on guitars, drums, and bass.
The bass may seem an unusual choice for a female musician in today's world. Women in all industries want to step out in front, not be relegated to the sidelines. Guitarist, keyboardists, drummers, and singers usually get most of the time in the spotlight Yet, many of the women interviewed for this article have found their own particular niche in this role.
Posted in Featured Articles | Tagged Chick Bass Players | 4 Responses