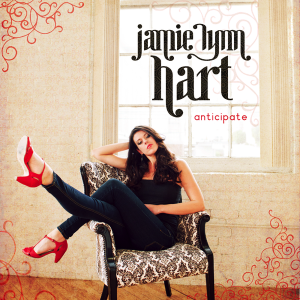 After already building up name recognition in greater-Boston through her live shows, new young artist Jamie Lynn Hart has released her debut CD Anticipate, and it is full of catchy moments indicating large promise.
It is easy to imagine many of these songs finding greater and greater sized audiences for Hart. The singer opens with the climbing momentum of her song "Bound To Burn." Her vocals and her band leap out of the gate with purposeful stride and they forge this one into something that grabs the ear and moves the spirit. It is a feisty songs and Hart sings it like a woman who means business.
Hart has a distinct vocal that can become a trademark signature on commercial FM radio. She moves right on into acoustic territory on "Shame On Me" with the very same mounting musical force as her rocking opener. The chorus has a strong hook inside of a honest, simple lyric. Hart's voice on "Shame On Me" has a beautiful clarity, and she rides her range with the classy self-restraint found among much older, more experienced singers.
"Been Missing" begins with Hart wrapping her svelte voice around her verses with unusual assurance before nailing her chorus with a solid, attention grabbing belt. Her voice cuts through the atmosphere like an instrument that can wring all kinds of emotions out of a verse. "Not Enough" gallops forward with a determined groove, an edgy guitar, and Hart's driving vocal. She is, again, able to mount her energy in an upward direction, making the listener feel she is always in motion, going where she wants to go, and getting their in style.
Hart switches gears a bit on "Bird's Eye View." Here, her voice resonates with power as she takes her time unfolding her verse over a wide, acoustic tapestry of guitar, piano, and percussion. "In Too Deep" is a ballad-paced number that showcases Hart's ability to stretch her timbre and tones to fill a lot of space left open by the subtle shifts in the direction taken by the musicians underneath.
"Freedom Song" is a chugging vocal workout that lifts this thematic piece into an anthem. Hart comes in with a slamming vibrancy that commands attention. This is Hart's song for peace and there is no doubt she really feels strongly about it. Her guitarist Kevin Eldridge wields a passionate lead guitar phrase and her rhythm section, bassist Steve Belleville and drummer Attis Jerrell Clapton, serve up an authoritative stomp to help Hart deliver her message with even more horsepower.
"Anything More" features more of Hart's sinewy vocal wrapping itself around her straight-forward lyrics and wide acoustic guitar melody. A vocal force of nature, Hart belts and coos her way into the listener's consciousness, etching herself into your memory bank of songs that grab you right off the bat first time you hear them. She will never be one of those artists you put on when you want something you can ignore in the background. Bass player Steve Belleville puts a nice knobby fulsome sound underneath Hart and guitarist Kevin Eldridge at every turn, the bass man creating much of the lush flow of these original pieces.
A second bass player to appear on Hart's debut is Chris Sublette who must be noticed for putting a sweet run of low end notes under Hart's sways and swishes on "Illusion," a song where she gets to showcase more of her well-executed, well placed vocal gymnastics in the context of a really solid song. The quiet piano ballad "When The Sun Arrives" features Hart using the kind of inflection and falsetto that is found in artists with mass appeal. You have to hear how lovely her voice sounds when it's holding notes over low end piano chords. You will likely hear yourself thinking that there is something special going on with this singer.
Hart closes out with "Open Doors," another in which her vocal makes a strong, upward climb over her band's subtle fleshing out of some lovely colors and tones. There is much to admire in Hart's Anticipation CD. Her band and guest musicians and arrangers all put a lot of nice touches on this young artist's debut full length. Keyboardists Eric Finland, Evan Gregory, and Ed Broms along with percussionist Darrell Tibbs did much to flesh out colors and tones and each should be credited for Hart's emergence as an artist to be taken very seriously. Arranger Michael Woods put polish on "In Too Deep" and "Illusion." Producer Zach McNees found the beauty in Hart's voice and he makes certain that other's will too by capturing every last drop of texture here. The only thing left to say is purchase this CD first chance you get. It's wonderful.

Follow me on Social Media!