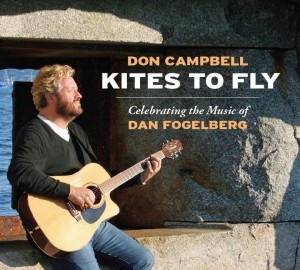 Don Campbell has named his double disc album tribute to Dan Fogelberg Kites To Fly Celebrating The Music Of Dan Fogelberg. Campbell has said that these treasured songs were like kites he had to fly, things to be put up there and given space to breathe and fly. Kites To Fly allows the Maine singer-songwriter to soar artistically on his personal renditions of Fogelberg classics.
Campbell opens his tribute with "Heart Hotels," a breathtakingly moody song that makes you feel the yearning emptiness of the lives he sings of. An electric guitar phrase from Campbell cuts right into the heart of the listener with its penetrating emotive tone. Campbell's cascading piano lines usher in another layer of feeling with their brittle tinkling.
"Illinois" breezes by sweetly with an authentic country violin line from Tom Yoder. This homecoming song makes you feel the traveler getting closer to his home state. Campbell croons this one with an understated tenderness. He doesn't need to be emphatic here. The Fogelberg lyrics do half the lifting as Campbell keeps it pure and honest.
Campbell makes you feel the youthful interest in the opposite sex in "Stars." He sings the words in a clear, smooth timbre, vocal sustains filled with unforced emotion. Campbell just lets the song breathe and from there, the original Fogelberg magic shines through the tribute artist, like the man from Maine is a vehicle channeling the feelings he gets from his own listening. Campbell has a drummer who calls himself Todd The Rocket Richard who shows himself very sensitive to which each song needs.
"Scarecrow's Dream" is a haunting reflection on what a scarecrow might be thinking if he had some kind of inner life. Fogelberg found an entire history in his man-like figure planted in the ground. Campbell, here, delivers that fantasy world with a wistful glance at what might be possible in the lives of many people who are stillness stuck in a field. It's a lonely song, and the singer brings it home with light touches of acoustic guitar, piano, bass, and lead and harmony vocals. The lead vocal is direct, a tunnel into the scarecrow's soul. The harmony vocal is lush with the forlorn feelings of living one's life stagnantly. It is sad to feel what another might be feeling, yet beautiful to feel it along with them compassionately.
"Make Love Stay" is a yearning for something more than a physical relationship. As Campbell's acoustic and Yoder's fiddle weave a fetching melody, the singer expresses, in a lower tenor voice, the thoughtful consideration for holding onto a good presence in our lives.
The 1979 Fogelberg hit "Longer" receives a thoughtful vocal line from Campbell. He sings it with a tender application of his abilities, an easeful approach allowing the song to breathe like someone who left the city for the country fresh air for the first time in years. Wide and expansive in its emotional range, acoustic, violin, and Dan Merrill's harmony line are small individual parts that smoothly come together to create something lofty and beautiful.
"Hard To Say" comes in with a gritty earnestness in its instrumental finesse. Campbell's handsome vocal is full of sincerity as he emotes over Sumner McKane's feisty lead guitar phrase and snappy rhythmic touches. McKane makes his guitar cry out the lead line and that works wonders at supporting the wide, rangy vocal melody. Campbell puts a kernel of grit in his timbre, and he uses his voice economically, letting out just enough magic to keep a balance between message and sound. It's moments like these throughout this album that make you realize just how much care goes into recording a singer-songwriter who offered so much of his own emotional wellspring.
Campbell presses out some acoustic guitar beauty to pull the listener into the Fogelberg beauty "Changing Horses." Todd The Rocket gently applies his rhythmic sense to a light dusting of percussion. Campbell's light touch of acoustic, bass, and voice and his harmony with his wife Tonya Shevenell prove the less is more philosophy to recording singer-songwriter material. There is such a sweet catchiness in those two voices. It keeps one listening closely to what's being said.
"Sutter's Mill" finds guest Jonathan Edwards blowing a harmonica line that is at once beautiful and mournful and full of gusty life. Campbell, managing to stay vocally afloat next to Edwards' sprawling melody, infuses this one with the ambivalent inner tension of "living in this still unsettled land." The balance between hope and opportunity on one hand with hardship and tragedy on the other comes through as clear as a bell. Campbell carries at once both emotions in his emotionally rangy sweep. This singer, too, marvelously serves up the fluid motion picture lyrical images that make this song an extra good story.
The painterly lyrics to "The Reach" conjure a Maine seacoast town from Fogelberg's travels. Here, Campbell makes you feel the timelessness in an old fishing village. His voice falls beautifully over the mild, lilting rhythm. Campbell croons in a mild, even tone, his honey smooth vocal filled with warmth and yearning. Dave Rowe's tin whistle is a marvelous touch here, not only playing well but contributing to that feeling of yesteryear's presence.
"Forefathers" is an ode to past fathers and to Fogelberg's contemporaries who too will some day be fathers to a future generation. A piano line rippling through this makes you feel the pushy river of time as Yoder's violin line makes you feel the echoes of the past. Todd The Rocket adds nice touches with drum fills that take their time making their bopping accents on the beat.
Campbell closes out his first disc in this double set with "Run For The Roses," a song Fogelberg wrote for ABC Sports for their coverage of the Kentucky Derby. The songwriter addresses this piece to the horse that would grow up to compete in the race. Campbell's warm flowing vocal wraps it with a gift ribbon, something that has an extra something on top to peak one's curiosity. The voice is just too pure and handsome too ignore. Campbell's piano and Yoder's violin play together in a seeming admiration of one other's tender ability to speak to the heart with music.
Campbell jumps right into the second disc with the jaunty rhythm of "Part Of The Plan." Todd The Rocket gives this one a jumpy, hoofing beat, putting motion into the tune while supporting tasty nugget's like Campbell's higher timbre croon and the electric guitar melody that the singer pays out with tasteful restraint.
"Tucson Arizona (Gazette)," arguably the best song on this double set, fills the listener's ears with the most tastefully applied vocals and nylon string guitar this side of the Mississippi. With great care, Campbell unfurls Fogelberg's story of desperation in the desert. Usually focused on reverie, respect, and hope, Fogelberg paints a picture of people living life on the edge. Spanish guitar techniques echo with the tragic tone of this tale. Still, Campbell maintains a warmth, as the people who lived this way are mournful human beings who got swept up in something too large for individuals to wrestle with.
The jaunty, rocking rhythms of "Missing You" make the toes suddenly feel like tapping. Campbell applies his best rhythmic vocal twists, starting and stopping each verse in between the beginning and ends of Sumner McKane's flinty electric guitar chords. Campbell's coos and sustains take this gem to en even higher level. Kris Rogers, meanwhile, plays a steely piano line that gives Sumner a run for his money, in a good way.
Campbell retells Fogelberg's cautionary tale on one of the songwriter's biggest radio hits. "The Power Of Gold" had made it onto rock as well as easy listening stations back in the day. It has a huge arcing chorus that Campbell scales with the greatest of ease as he asks "Are you/Under/The power of gold?" Campbell, McKane, Yoder, and Todd The Rocket play this like a tight rocker, an edgy groove number with wide, sweeping lead guitar lines. Campbell and his boys succeed in recreating Fogelberg's edgy melodrama.
"The Innocent Age" comes wafting in with a hefty dose of acoustic guitar bliss. Campbell's lush vocal melody has a fulsome purity. He injects his vocal with plenty of nostalgic yearning without falling into maudlin sentiment. Life, in its early stages, seems a simpler time, with clear horizons and infinite possibilities. As grown ups, we look back at that childhood mindset to realize it could never be. Campbell again balances the warmth for the earlier time with the mournfulness of having seen it pass by.
"Days To Come" follows a similar narrative pattern as "Innocent Age." Yet, it plays with more flinty resolve from Todd The Rocket's persistent drum fills and Sumner McKane's gritty electric gee-tar picking style.
"The Sand And The Foam" is an acoustic guitar beauty. Campbell sings it in a handsome low tenor that rings out in perfect contrast to his brittle acoustic picking. He carries the listener along with the Fogelberg lyrics by placing emphasis on feeling. This is the kind of song that makes you almost forget that it's constructed with a voice and musical instruments. It lives in the moment. Campbell and Yoder finesse the heck out of the melody lines, offering more of their sweeping emotional acoustic work that plays with the fulsomeness of a larger ensemble.
"To The Morning" begins with Tom Snow's cascading piano line. The listener feels something momentous is on the way with each set of tinkling minor key notes. Campbell chimes in with his handsome delivery of the lyrical art, and, over Snow's piano line, he sounds larger and more majestic than anywhere else on this album. There is nothing like a regally played piano melody to make a great singer shine ever more brightly.
One of Fogelberg's biggest hits and most beautiful songs ever was about his dad, the "Leader Of The Band." Campbell puts a lot of care into his own respectful recreation. He doesn't change it too much but rises above impersonation by presenting his own personal inflections. There is something special going on with Campbell's voice that shows itself the most here. He finds the right spaces between the musical instrumentation to start and stop his singing of each verse. It's an intuitive hit that comes into play throughout each song, especially this one. A listener can get easily caught up in the emotional chorus and Tom Dyhrberg's lovely flute melody.
Another big number for Fogelberg was "Same Old Lang Syne." Here, Fogelberg wrote of meeting up with a former love, having drinks, discussing the past and the present, both realizing that they're now on separate life journeys. Campbell only needs his voice and a piano to capture the forlorn beauty of this couple that went their own separate while simultaneously appreciating what they once had in a simpler time. He makes you feel the present and the past with considerate amounts of emotive crooning to set the characters and the scene.
Campbell closes out his second disc with Fogelberg's "There's A Place In The World For A Gambler." It's stirring emotional cry to let one's inner light rise above one's inner darkness is the perfect finish to this labor of love tribute album. On another level, Campbell's earnest, heartfelt vocal is calling on Fogelberg's music to rise above his sad ending, to shine for a world full of his fans and a world of people who might also become his fans.
Campbell put heart and soul into crafting this amazing double album tribute to his favorite singer-songwriter. The man from Maine does justice to the message in these songs as well as the talent in the original recordings. Respect is a key motivator for Campbell. A need to let these songs reach more people and breathe in their own space is another. Credit must also be given for the amount of work involved with a project this big and for finding the best possible people to help flesh out the sound. Tom Yoder is one of the finest musicians in the north east, and Todd The Rocket Richard is someone to keep an ear out for. The only thing left to say about a great double album is buy a copy right away.