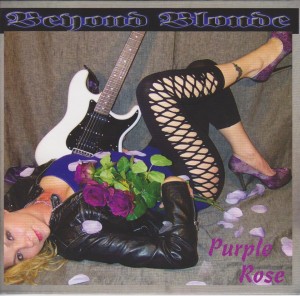 Beyond Blonde just dropped another kicking rock album Purple Rose. The Rhode Island band just keeps getting better with each successive album. Lead singer Lisa Markovich has written even more sharply defined lyrics this time around and her arrangements have plenty of the usual Beyond Blonde aggressive adventurousness.
Lead by Lisa Markovich the band jumps out of the gate with "Jenna," a driving acoustic-electric rocker with Markovich's assertive vocal giving the whole thing an appealing edge. She makes you want to listen more with the way she projects her raspy timbre and soulful expression. Even when Markovich downshifts for some verses, she does so with verve and confidence, before bringing it back up full throttle, in style, on the chorus. It's uncanny how punchy and tight this band plays under the singer's elastic vocal gymnastics.
"Won My Heart" finds Markovich using her silkier vocal timbre and graceful sustains to make an even more special expression. This ode to love comes alive with the lift she gives it in the opening verse before launching into solid rocking territory. Her shifting between one musical plateau to another is what gives her tunes that special rollercoaster feeling of dips and rises. Gary Ross is indispensable on guitar here. He has a very appealing light touch on the guitars that gives this song personality.
"Things Might Change" is another delicious blend of acoustic and electric guitars. Markovich mellows her approach here but is no less stunning in her ability to put across an emotion. Her raw raspy voice sings of disappointment and frustration. Many will identify with this song, and those listeners will likely find catharsis in Markovich's vocal delivery. There a spirituality in the vocals that remind of gospel singers. Markovich sings this one from the heart, and she makes the listener feel it the way she likely felt it when she wrote it.
Guitars are stomping authoritatively on "Southern Girl" while Markovich sings in a more guttural, husky timbre. The effect makes you take note of the nice girl you better not cross attitude. This singer's gutsy approach works well as she jumps in vocally in between an aggressive rhythm section's steady march. Bassist Mike Kaczmarczyk and drummer Mick Coste take no prisoners in their accompaniment to the finish. Markovich gets a serious acoustic guitar strum going on, and it's southern rock joy to hear her sing about stealing her daddy's truck to hook up with southern boys. This is like Gretchen Wilson switching to rock with a killer band behind her.
"Sometimes-a Song for Donna Compos" shows Markovich's compassionate and reflective side in the stirring tribute to her former drummer. The gentle singer-songwriter approach to the acoustic guitar gives this number an even more serious and emotive quality. The mesh of acoustic and electric weave a warm blanket of feeling and tenderness. Most people could only wish to have a friend like Lisa Markovich write such a moving lyrical and musical tribute. It is a sincere number that never sinks into maudlin sentiment.
"How You Liken' It" features Ross grinding out some tasty southern fried guitar licks while Markovich sings in a mid-tempo groove that makes the listener feel like she's talking right to you. The beat, too, is particularly interesting here, making one get even more into the groove. The guitar phrase is particularly cool and incisive, cutting its icy way through the sonic landscape with precision.
Beyond Blonde rock out even more on "Fly," a number that soars into the stratosphere with a killer guitar line, a husky rhythm section, and more of those gorgeous, muscular vocal assertions. The other good thing is, and it's true about all the songs here, you can't really trace the influences this band follows. Everything they do has their own special Beyond Blonde sound.
The band slow things down \to an emotive drawl on "Time." Markovich nails the forlorn emotion of moving on from something significant. Her voice is like the perfect instrument to inform what went on in her heart. It stirs the listener's soul with that sudden stop emptiness that comes when something is over. The brave survivor soul comes through on the flip side of that emotion and capturing both feelings in one song is another mark of strength on this Purple Rose album.
Funkier than usual guitar riffs and Chuck Ciany's saxophone bop their way right into the slap at naiveté titled "Rose Colored Glasses." This is a rock song you could dance to as the infectious groove combines with the funky guitar and sax to pull people onto the dance floor. The low end notes snake their way around the beat hypnotically. Markovich finds just the right moments to jump in between those spaces to make her case against people who live in their own innocent worlds. This is definitely one of Markovich's best arrangements and should probably be the first cut sent to local radio stations.
"Doesn't Mean" is more ballad nuanced and paced. Markovich puts a steady emotive acoustic strum underneath a sad, bleating electric touch. This contrast of sound opens the song up to emotional broad strokes, which the vocals fill in nicely. There is nothing like a song that make you feel something.
Title track, "Purple Rose-a song for Lisa Palazzo," is Markovich's farewell to a friend who left the world much too soon. Aside from the swirl of guitar, bass, and drums, the vocals reach a tender spot in the yearning to connect while at the same time saying goodbye. It's another sign of Beyond Blonde's complex song structure and the singer-songwriter's gift for expressing complex emotions. Just as the music wraps the listener in an emotional texture, the voice carries you another step closer into the story of life.
Beyond Blonde has done it again on this solid, tight rock-fest with meaningful lyrics perfectly delivered. This is one the best bands to ever marry singer-songwriter sensibility to good, hooky, hard-driving rock. Bravo.

Follow me on Social Media!