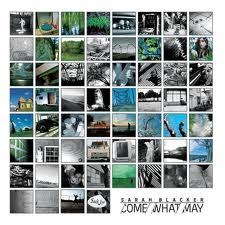 Sarah Blacker's new Come What May CD stands up to repeated listening. I left this CD in my computer to play over and over again for days on end as I attended to other matters, and I never grew tired of listening to all the sweet vocal melodies it had to offer. Guitar, mandolin, organ, and horn melodies here also pleased my ear continuously.
The Sarah Blacker album opens with "Drivin.'" Blacker's beautiful, chirpy voice sails over a backdrop of acoustic and pedal steel guitar. Her vocal, rising like a declaration of reality, moves through a valley of country twang and rock and roll drive. She can keep a lot of elements together as her voice, with its persistent edge, forges everything into the song's backbone.
On her tune "Knocked The Winds" Blacker navigates her unique silkiness around her lyrics with ease. Her voice and musicianship are low key, mellow, easy going. Yet, Blacker makes sweet music because her voice, which has the rich texture of a horn, rivals trombone and trumpet melodies from Rick Smith for supremacy in the song.
"When I Was New" has an assertive vocal approach over mid-tempo music and this showcases how well Blacker's voice rides her melodies. When she holds a note briefly, your ears are given a sweet treat. Blacker's music compositions too make quite an impression. Her backing band features brittle, almost country lead guitar and a touch of organ, just enough to maintain that fine balance of timbres.
Title track "Come What May" finds her voice in this slower, gentle peace filled with her sweet, chirpy timbre that makes her so winsome and personable. She irons out her timbre in her chorus and it's like a whole new singer, the contrast impressing while adding an extra dimension to this tune.
Blacker's love song "Ponder" draws listeners in with her ability to scale up the side of her wide sound before she sings over the top of it. It's in the way she sustains notes on her way to the end of the song that allows listeners to grasp the power of her often restrained and understated voice. She doesn't even try to sing out emotionally. The emotion is in her lyrics and stories and she just lets her special voice caress the melodies, pressing the joys and sorrows out with a pretty and precise flow of notes.
"Shining Giant" puts emphasis on Blacker's acoustic guitar picking skill. She has a tasty, snappy punch in her notes. As always, though, her voice takes on the leadership role, pulling the listener into her lyrical tale with its subtle touches, higher notes, lower notes, and sustained notes, notes that she instills with feeling while wielding them with precision. Electric guitarist Brad McCarthy hits all the right places in the space Blacker opens up for him, his detailed brush strokes giving her song just the right amount of edge around the perimeters.
Blacker's more quiet meditative song "I'm Like A Train, My Lord" soothes the ear and the soul with her flexible and nimble vocal. She really massages all of her words with the way she presses her forceful, higher notes. She doesn't just sing her chorus, she finesses it. "Humble Man" gets an affectionate embrace from her subtle vocal wrapped around some muscular guitar and organ. She really rides a special trail around her band's twists and turns. Especially clever is when she slides under and around Dave Zerio's B3 Hammond organ.
True warmth shines through her delivery of her companionable song "Friend," making you feel like you're the friend she is addressing. She also plays a nice acoustic guitar melody, constantly placing gritty accents where needed to keep the melody rolling along with traction. The architecture of her songs takes a little longer to unravel but it is there and it gives her songs the largeness of a skyscraper.
"Smitten" finds Blacker's voice spiraling wide as she, like an opera singer, rises several notes higher into a whole different register. When this tune turns into an edgy rocker, Blacker switches gears and puts a perfectly rough edge on top of her band's driving sound. By this track, though, it is no surprise that Blacker has been reserving this sort of sonic blast as her prior restraint only makes you want to guess at how much festers below the surface.
Blacker solo acoustic mandolin song "Not All The King's Men" features her ably picked instrument creating a space for her singular voice to grab the center of gravity. Her timbre is light, sweet, and she uses it reservedly. Again, by pulling her punches she gives them more power as you can hear how much crackles below the surface.
Blacker closes out this CD with "Cowboy," a bulbous tune that gets an able assist from Tom Bianchi's upright bass, it's fat, full sound pushing this sturdy country-flavored number forward. Blacker caresses her lyrics with her svelte voice as "Cowboy" closes out with her lovely coos.
Blacker has definitely hit the emotional and musical bull's eye on this new Come What May album
www.sarahblacker.com
Share on Facebook

Follow me on Social Media!