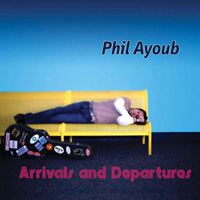 Boston musician Phil Ayoub has a sound that can go national. Ayoub's new sophomore CD Arrivals And Departures is marked by his quirky vocals and distinct jangly guitar sound. Ayoub found the perfect recipe to make a sound all his own, offers a lot to the ear without ever overwhelming. There is so much to like on this CD it isn't funny. Sonic structures, vocal delivery, and honest lyrics all function on a high level.
Much of the credit goes to U.K. producer Tim Bradshaw for helping to create the appealing sounds capes and for developing some of Ayoub's lyrical content. Drummer Kevin Figueiredo(Extreme) was also a good guy to have on hand in the studio.
Arrivals And Departures is the second CD Ayoub has released since leaving his first band Riverside Train. Opening track "The Bearded Lady" hails the arrival of a potential barn-burner on the national music scene. Thick with busy electric and acoustic, a horse racing beat makes you sense the song has true purpose and is going somewhere.
"Get Out" gets a polite nudge forward with its assertive bass line. From there, Ayoub has fun with stringy guitar sounds and taking his time unfolding his chorus with his unique timbre. Kicking guitars and harmonica complete the saucy punchiness with earthy, anthem-sized melody. That's right, folks, earthy but large at the same time.
Creating atmospheres is another of Ayoub's strengths. "Basement" has such a clean guitar tone. It sounds like something that is walking around, moving past the contemplative pace of the song while Ayoub sounds forlorn as he sings of days gone by.
"Flowers At Work" is a friendly, flirty note to a former love. Breezy and stylish, Ayoub puts this one across with gently honesty. "Body Language" squeezes as much life as it can out of moving, twangy guitar. Ayoub's timbre and tone sits evenly in an assertive emotional range without ever becoming loud or over pronounced.
Ayoub, like a great playwright, can set the scene, controlling the characters' range of emotions by hinting at the kind of coping skills they use with each other, making room for the viewer to "get" what is going on between them. For example: "Bad Habits" is Ayoub's one sided conversation with a love that has annoying tendencies. The wit carries through because the music is smooth, unobtrusive; Ayoub's vocal is full of easy going grace. A great verse from the song: "Asking me if you look fat/How the hell do I answer that?"
"Thank You For Bringing Me Home" is a smorgasbord of pleasing melodies and grooves.
Melodies and instrumentation keep you glued to your speakers. "Goodnight Romeo" lulls you in with a very pleasing sonic texture with guitars dancing around each other's melody notes before giving way to nervous keyboards. The atmospherics that Ayoub and producer Tim Bradshaw get out of their guitars is astounding.
"Ray Of Light" has shades of 80s synth and pop-rock influences inside of its unique sonic structures. A whirling keyboard and a driving beat turn this singer-songwriter reflective mode into a potential hit single. Ayoub finesses his quirky timbre, spreading it over the top of this electro-pop joy ride.
Moving at a lullaby pace, "Tara's Birthday" opens up wide and majestic, allowing simple guitar notes to ring out and resonate, creating a vibe that might make some listeners afraid they're going to relate all too well to the lyrics. Ayoub's forlorn, melancholy vocal approach makes you realize there's a sad truth underneath the mountain of sound.
Ayoub accomplishes much in one song by contrasting upbeat music with unhappy feelings in his words. "Things That Remind Me You're Gone" hoofs it with a chugging shuffle beat and racing guitar chords that pull the reigns of this galloping creature. This movable sound will carry you through Ayoub's world of disturbed domesticity like an exciting haunted house ride at an amusement park. The twists and turns taken by the ride will keep running you into images that startle.
As a composer, Ayoub can also get his message across without a hard-charging beat and soaring atmospherics. "Walk You Home" is an old-fashioned waltz that will gently sweep you off your feet. Ayoub is at his most sensitive here. Accordion and acoustic guitar melodies conjure an innocent courtship scene. "32 Memory Lane," co-written by Bradshaw, is a pleasant acoustic guitar, drum-brushed finale to this batch of new songs. Ayoub's winsome voice finds another good home in yet another kind of setting, low key, mellow mood music.
By the time you finish listening to the hidden bonus track, you'll think there is nothing Ayoub can't do with his sound and that there are no limits to how far he can go with is music.