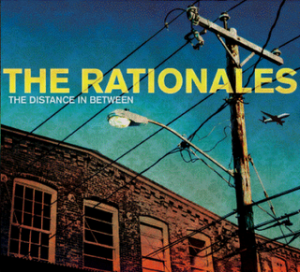 The Rationales new CD The Distance In Between is a lively batch of songs dripping with sweet pop-rock melodies. Hooky choruses are the order of the day on this disc. Band leader David Mirabella has a mild, pleasant timbre in his rangy vocal and he conjures warm feeling in each song with his tender vocal applications.
"Real Life" opens the CD with as much as a song could have. On "Braedon" Mirabella's clever lead guitar walks hand in hand with Matt Goldfield's perky keyboard melody. With a vocal timbre made for these pop songs, Mirabella is just on this side of roughness. His slight edginess allows him to cut through to the top to please the ear with gentle vocal pokes in his lyrics.
"Jaded" is down tempo but exquisite in its use of dynamics and accents. The guitars have snap, crackle, and pop, bracing against each other just enough to create dynamic tension in the instrumental passages. There is a gentle attitude behind all of the songwriting that makes these tracks accessible, inviting.
"Another Moon" finds its glow in the frisky keyboards and its edgy, spiky guitar break, the song weaving together like a complex jig saw puzzle, every small part had to be in place for it to work so well. "Try To Tell Me" is the obvious hit single here. The hooky chorus has the perfect balance between two warm voices and the guitar melody is particularly catchy.
Mirabella and his boys are true craftsmen. A lot of care went into "Slow Faster," a song with true pop assembly and the way the chorus get greased by Mirabella's soft timbre breathes lots of life into it. Likewise, the lead guitar in "Tongue Tied" asserts itself at the right moments to prolong the drama in the music. The pretty guitar break can carry you away to a pleasant daydream of a brighter day, and it is refreshing to hear, for the first time in years, music that can inspire happy feelings.
"Still We Believe" makes us believe in a good hook after we hear this song. Mirabella sustains the vocal notes just long enough to inject a solid hooky catchiness. It is his, and his band mates', sensitive restraint that makes these songs work.
"The One You Wanted" is made up of contemplative lyrics delivered in a lilting, sing song manner that draws you in with the subtly of a children's lullaby . Mirabella's oh so smooth voice just lightly touches the ear drum with its gentle sweep across the vocal melody, making the listener feel like he's having a conversation with a close friend.
Bass player Sean Black, drummer Mike Mirabella, and guitarist Kevin McMahon are all perfect partners with Mirabella and Goldfield, keeping each song individualized as well as catchy and dynamic. The Rationales are the perfect Boston pop rock confection for the summer of 2011.

Follow me on Social Media!