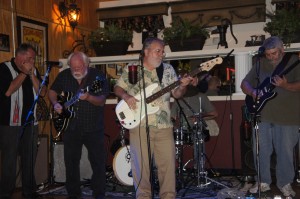 Blues Tonight Band made quite an impression at Wicked Twisted in Nashua, New Hampshire just two days ago. The quintet takes pure vintage blues idioms and plays them pedal to the floor with rock and roll aggression. The guitarists make it cry and sing. The harmonica player kicks it with rangy lead lines. The rhythm section can hold up all of the intricate gusto above them. These are not young musicians. They' been around for a long time, and they've learned a lot in their years.
Lead guitarist Craig Farrington picked off several electrifying phrases that were loaded with sharp, snappy notes. He often used a technique in which he would slow it down, letting each note ring out with clarity and purpose for a brief interval before hitting the next.
Harmonica player Alan Doyle kept a rascally melody line going strong over the gusts of lead and rhythm guitar. Often times, Farrington would play a lead guitar melody line, pretty, sweet, high, taking his time pressing out the beauty, then he'd politely step aside in the mix for Doyle to fire off bristling sharp harp lines. The gentlemanly exchanges and contrasts in timbres and edginess made for some fine tasteful nuances in their songs.
Second guitarist Dave Bottom often kept things going steady with a lot of rhythm, locking in with bass and drums to keep a wall of groove going through each song. Yet, Bottom often, at the drop of a dime, fired off lead guitar phrases in a style that contrasted brightly and sharply with Farrington's, making for greater detail in the band's sound. Bottom also sings lead vocals in some songs, with a soft, smooth timbre that contrasts well with Farrington's grittier voice.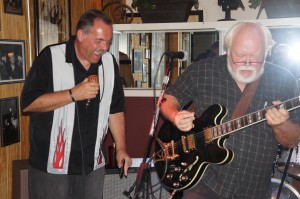 Bottom sang lead vocal on the even tempered groove number "Cross Cut Saw," addressing the need for a soothing, pleasant croon in the country blues vehicle. Next up was the Muddy Waters "Hootchie Cootchie Man. A kicking number in these guy's hands, Farrington whipped up a huge melodic sound with Doyle's sly harmonica lines sliding in and out. An alluring backbeat pulled the crowd into the towering sound, shards of lead guitar adding plenty of aggressive blues flavor.
"Next Time You See Me" found Bottom playing clear, snappy blues lines, in a style distinct from Farrington's prolonged phrasing, another nice nuance in their sound. On the shuffling groove "Clean This Mess," Doyle's harmonica line put in a mild, purty appearance. Bottom played some tasteful, carefully modulated slide, simmering and greasy, hot, moving his fingers up and down his fret board in way that made it look easy to play that well.
It was noted during Blues Tonight Band's presentation of "Bottle Under My Pillow" that the Wicked Twisted venue has a colorful light show. A pattern of green laser lines turned this number psychedelic to accommodate the song's lyrical theme. The band played "Killing Floor" as a tight ensemble with an extra tight groove. Farrington's rapid fire guitar riffs and Bottom's smooth, soft vocal timbre made it sound at once homey and juke joint.
"Rack 'Em Up" was Bottom's best vocal effort of the evening. The band played low key, quiet, down tempo, creating plenty of space to let his voice breathe. His lead guitar phrase, too, got a good airing out, shimmering, holding icy cold notes, sustaining them before slipping backing into an overriding melody line. Farrington put his three cents in, playing his own take on the lead lines. This variety, again, pointed to one of the band's greatest strengths. They keep things interesting within their gusty blues sound by injecting individual personalities with their distinct playing styles and techniques.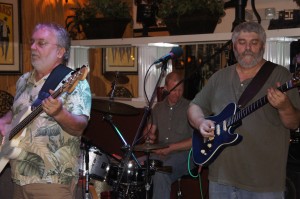 Blues Tonight Band put in plenty of other nice touches. Hefty coos pulled the crowd into "Little By Little," then, the tight ensemble playing made swells of gentle moods, until, that is, Farrington went to town on guitar. "Key To The Highway" continued the band's mellower pace for a brief interval. Then the almost spoken singing style of Farrington on "Out Of Control," his gritty vocal application and the feisty thrust of the band gave even more kick.
"I'm Ready" was a gusty, rocking, two-fisted romp. Driving, rumbling, rollicking, it went over the top when lead guitar and harmonica traded places in the high melody line. That guitar could cut diamond and that harmonica could've knocked down a wall. The boys got raucous on "Harlan County Line," whipped up a hurricane of sound on "Matchbox," played hypnotic highs on "Help Me," and served up a boldly flavored "Hard River To Row."
Many of their song selections fit Blues Tonight Band like a glove. "Riding With The King" was particularly well suited for the two guitarists to strut their stuff in equal measures, each in his own distinct style. Bass player Steve Brooks's solo saw him plucking those heavily accented notes in his run of low end exuberance. And just when you thought the two guitarists couldn't get any better, they both played amazing things simultaneously, to even greater effect.
Mellow octave guitar notes were a winner on "Just Got Back From Baby's." "Further Up The Road" was meaningfully played. "Roll Me On Over" captured a fun party vibe. Bottom played mischievous melodies on "Stray Cat Grooves." And the Coco Montoya song "Don't Think About That" featured good harmonies.
The Blues Tonight Band finished their night with an aggressive "Sweet Home Chicago." The belt and the groove was pure blues but the aggression came from five guys who had to be hard rock fans before they started listening to blues. There is nothing weak about this group of veterans. They could add a few more down tempo, soulful slow burners and some country blues shuffles to create peaks and valleys in their sets, instead of playing aggressive blues for most of the evening. Yet, despite their gray hair, Blues Tonight Band has staying power in the greater-Boston/New England blues circuit.

Follow me on Social Media!