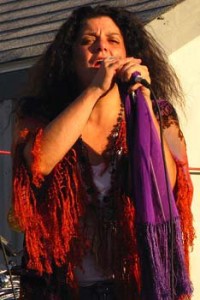 Groovy Afternoon's lead singer Christine Mascot is dedicated to the classic rock music of the Woodstock era. Mascott's four piece performs iconic, legendary songs from 1965 to 1973. Jimi Hendrix, Janis Joplin, The Beatles, Led Zeppelin, Steppenwolf, Grand Funk Railroad, Mountain, Credence Clearwater Revival, and Jefferson Airplane make up the bulk of Groovy Afternoon's set list.
"We pay tribute not necessarily to one particular band but to a moment in time of music that was very meaningful," Mascott.
Groovy Afternoon act, on stage, as if they are a band from that era, a time when it was the norm for those bands to cover each other's music .
"We treat the whole thing as if we were a vintage band covering all of these songs," she said. "We capture the classic moments everybody loves in the song, but when we have the solo sections, we treat it like an open jam like the bands did back in the day. Every show's a little different."
Mascott and her band mates dress in full costumes, with fringe, tie-dyed, and everything else from that era making a spectacular nostalgic act. Groovy Afternoon plays bars, outdoor events, and festivals, and they are currently trying to plan out a much larger stage show that will include light projectors, oil lamps, and much more psychedelic theatrical elements.
Mascott's husband Paul Mascott is the highly trained musician in the group, and he gives the group its musical direction. Mr. Mascott was once selected by Pete Townsend to play in the orchestra pit band for the national touring production of The Who's Tommy. "He's the definitely the strong musical presence," she said, "and we all are experienced musicians too." Drummer Andrew Ianniello and bass player Tracy Ferrie round out the four-piece.
Groovy Afternoon plays out often in Cape Cod and southeastern Massachusetts and have plans to branch into Rhode Island and New Hampshire. "We're really playing all over," Mascott said "We've only been in existence for little over a year, so that's pretty cool.
Before forming Groovy Afternoon, the Mascotts lived in New York for 11 years where they had an originals project. They also toured often, Mr. Mascott as a musician, Mrs. Mascott as an actor. Together, the formed a group called The Drop Band, which was original modern psychedelic rock that showcased all of Mr. Mascott's original music.
These day, of course, Mascott and her husband are fascinated with the late 60s/early 70s rock music. She believes everybody who loves rock and roll is fascinated with that era of music.
"It is the time when the genre was really birthed in its most aggressive form," she said. "It was a time of peace, love, and music. Our demographics shows that this music appeals across the board. It not only appeals to the generation that birthed it and remember it well and fondly and wish people played more of it, but, every generation after has caught on to that music. It has a raw energy and a power and content that is so missing from a lot of modern popular music. It had something to say and the times gave it that."
Mascott said the popular youth attitude of that era shined through all the tunes of that time, whether the artist was folk, pop, hard rock, or Motown. "It all had rawness to it, an abandon to it that you find in the analog world, " she said, "and in our digital age a lot of that magic has been lost in the digital polishing that can happen. It had a power and an energy in its imperfection."
Mascott said the artists of the Woodstock likely knew they were riding a big wave of change. "All around, the music affected the popular culture and the popular culture affected the music," she said. "The events of the day, it was all influencing. Crosby, Stills, Nash, and Young's 'Ohio' was written just a few days after Kent State, and it is still a powerful statement of the era."
From gentle folk music to the then new, heavy sound, all the artists of the day found their own place in the sun. "They each captured their own sound, but then birthed so many tangents of future rock off of them. You look at The Beatles for one, and you can see seeds of every music genre that ever followed them in the rock world. You cannot look at modern artists without saying they were influenced by all of it."
Mascott said that many Vietnam veterans come to the Groovy Afternoon shows. They thank her band for performing the music that they missed out on when they were serving in southeast Asia during that time.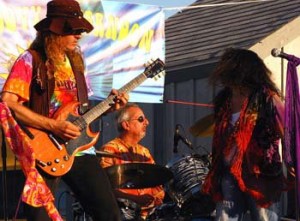 "They thank us for giving them the experience because they didn't see it, they didn't get it. They didn't see all of the music because they were over in Vietnam for the whole time. So, in a way, we feel were almost acquainting some people of that era with the music for the first time."
Younger people, too, enjoy the Groovy Afternoon experience. When she brings her band to the Hyannis version of Tommy Doyle's Irish Pub, she sees 22 year olds freaking out because they recognize the songs from their parents' record collections.
"Because we don't play so much the folkie side of the aisle, we tend to play the harder, more aggressive tunes, especially when were in the younger venues, the kids rock out and really, really love it," she said. Based on this, Mascott thinks there will always be a market for this music.
"Good music is good music," she said. "A good song is a good song. It can be treated many different ways. That's why a lot of these tunes have been revisited over the years and covered. I don't see why it wouldn't live forever, especially with people like us trying to keep the vibe alive."
Putting the vibe across in their Groovy Afternoon gigs can be difficult. "It's challenging music," she said, "which is why a lot of people don't play these songs and they're not heard more often. So, the level of musicianship in the band is good. We're challenged by the material. That's one of the reasons we formed the band. We couldn't see playing 'Celebration' at every wedding. The whole G.B. thing gets old very fast when you're playing music that you're supposed to play. When we formed Groovy Afternoon one of the ideas was 'How do we make a cover band that we're not going to get sick of playing in?' It's challenging enough to keep us interested for a long time."
On September ninth at the Cotuit Center For The Arts, Groovy Afternoon will participate in a mutli-media celebration of all kinds of art. "We're turning it into a vintage style Warholesque happening," she said. "In addition to the concert there's going to be all kinds of elements. There's going to be a big festival with environmental theater elements, other musicians involved, all kinds of crazy stuff going on." She chuckled and added: "Burning draft cards, everything." Her band will have a full light show.
Mascott has always been an actor, having appeared in films Surrogates and The Invention Of Lying, and she continues to earn a living from her theatrical medium. She is the managing director of the Cape Cod Theater Project, a play development company. Some of the country's top playwrights, along with professional directors and actors from New York City, develop plays, present one each week over the month of July in public staged readings. Each playwright gets feedback from the audience as well as the thespians who have worked on their play. Cape Cod Theater Project has presented Pulitzer Prize winners and Broadway playwrights.
As for her Mascott's band, Groovy Afternoon will appear this summer of 2011 on the Cape at town bandstands, town band shells, and boat cruises with the Hy-Line Canal Cruisers. While there will be no cloud of Marijuana smoke wafting over head and no hippie chicks tribal dancing in the nude, Groovy Afternoon will certainly be fun to watch as they present this timeless music from the revolutionary 60s.