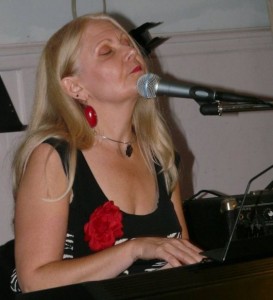 Kari Tieger was preparing for a concert at a New Age center when she was interviewed for this article. The kind of lovely lady that is well liked by all who know her, Tieger was gifted by the center's owner with the opportunity to perform there.
"We put this together a couple of months ago," Tieger said. "It's actually my first big concert of the year. I usually play at open mikes. But I haven't done two sets in a while. I'm playing with a quartet."
An eclectic acoustic pop ambient composer, Tieger uses many acoustic instruments. She will record half of a CD on electric keyboard and the other half on acoustic piano. She does use electric bass and tomorrow night her son will play bass. She will also have a percussionist too and a viola/violin player.
The Positive New Beginnings Holistic Center in East Providence will be the venue.
Tieger's music defies categories. She has many obvious pop influences like Billy Joel and Elton John, but she also draws influences from France, the Middle East, and classical. "They say it's a strength to have a style all your own," Tieger said "but not for me."
Tieger often gets lumped in with Adult Contemporary, which she can't stand because it makes people thinking "Oh, OK, boring. Stuff you can just play in the background and nobody really has to listen to it," she said.
More of a composer than a songwriter, Tieger sometimes calls it eclectic pop because ambient doesn't really fit her music either. There is more melodic pop in Tieger's piano and keyboard playing than the wide, atmospheres associated with ambient music. Tieger is the kind of interesting artist that the more you learn about her, the more fascinating she is, carrying many styles in her repertoire and creative means to get them across.
Two years ago, Tieger and her son along with her friend Kevin Campbell composed a Broadway style vampire drama called Nightsong. She presented it to an audience with actors-dancers-singers at St. Ann's Art & Cultural Center in Woonsocket, Rhode Island, a huge cathedral.
"It was really cool to put on a gothic production in a cathedral," she said. "It all started in 96. I put out something called Trilogy Of Night Songs: A Romantic View Of Vampires. Then, I put it on my first full-length CD and kind of intimated that some day it would be nice to turn it into a movie. Round about 2004, my son and one of his band mates picked up the idea."
The two men thought it would make a good Broadway show. It took five years, from pre-production, script writing, to casting, but in 2009, it finally went on and it was reprised in 2010 in a smaller venue, A.S.G. 20 in Providence.
Tieger's three full-length CDs have been compared to film score music. Her composition "Coronado" has been used for year's Eva Longoria's side project television called Desperate House Makeovers.
Tieger began her recording career in 1989. She considers herself a recording artist more than a performing artist. She only performs enough to keep herself in the minds of people in her music community.
Her pop music contains elements of Gypsy, Eastern European melodies, and Middle-Eastern rhythms, and a whole lot more. Tieger has a degree in French and that romantic little country too influences her music. She has recorded half her stuff in French.
Growing up, Tieger's mother had a best friend who was a belly dancer in New York City. Her father was a drummer who played a lot of Latin rhythms. It is no wonder that having a broad musical palette is second nature to her.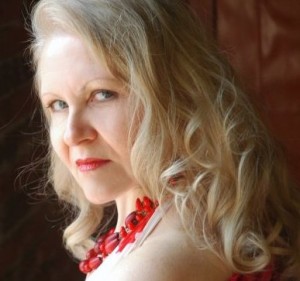 Tieger had a difficult time finding a reviewer who would write up her second album because no one thought they could understand it well enough.
"Surprisingly, the French album had been very popular," she said. "It got voted Album Of The Year. I did everything I could to make it as accessible as possible. I included a booklet with side by side translations so people could listen in French and read in English." It was 2009 when Rhode Island's Motif Magazine, at their annual award show, named her CD Americana (Non Rock) Album Of The Year. (Americana means non-rock, which is why it used to categorized Tieger's music, even though it is counter-intuitive to list an album in French as Americana).
Motif has also nominated Tieger Best Female Vocalist the last two years. She has recorded three full-length music CDs and she performed in France in 2000 and 2004. Tieger played a house party in the northeastern part of the country, in the city of Metz. She also played in Normandy in a city called Evreux and in an area called Aix-en-Provence.
"The one in Normandy actually probably went the best," she said.  Tieger used to be at staple at Borders and Barnes And Noble, in the day when those bookstores had an original music showcase. She has, as a member of Rhode Island Songwriters, been booked in intimate folk rooms.
Tieger's French songs came about after she spent her early mornings on the internet chat rooms with people in France. She and her friends would exchange French poetry. Soon, Tieger was putting music to these poems and then writing her own songs in French. "It started with the goal of writing one song in French," she said. "It kind of mushroomed."
Tieger's music can be said to have an influence from France's genre Chanson, which is a popular pop music. Then, there is her French folk music, influenced by what the French call vulgaire. There are also French art-songs in her blend. Tieger's music encompasses all of these French genres.
Tieger, a Francophile, has a fascination with all things French. "I guess I'm just drawn to a lot of those kinds of music," she said. "It's not the only thing I do, but it is a big part of what I do."
Tieger, who composes in English and French, focuses her lyrics on relationships and spiritual growth. She does not take the usual cue from folk music to write about topical issues.
"I'd rather try to inspire people to be better people," she said. "I do write from experience a lot. I have a song called 'Rosebud' which just kind of came to me almost verbatim. It starts out talking about I'm about to go on stage and I feel closed up like a tight little bud, and I begin to open up. Then, it takes the analogy larger, saying that we're all opening up into the sun."
Tieger also has a song called "Music Of The Muse" which discusses aligning yourself with the cosmos. "We realize we're part of the flow," she said.
Her most recent CD Nos Mots, which means Our Words, was released in 20o8. Over the course of 22 years and four full length CDs, Tieger has learned an awful lot about sound production. She can now utilize the studio to keep her songs very distinct from each other. Her producer-sound engineer, Tony Ricci, has been working with her for 22 years. Ritchie is good at listening to her and making suggestions. "If you listen to tracks from 'Touch Of Magic' and then listen to tracks from "Nos Mots,' it's a whole different ballgame. The production value is what might be what sold people because it's just really, really wonderful to listen to, the newest one."
Talk about variety, Nos Mots starts in pop music and makes an evolution toward more classical music. Tieger even put in a couple of piano and violin duets ,while always having the accessibility of pop music. The sweet, amiable melodies going on and the clap along rhythms keep it fun and less intellectualized than classical and less exotic than heavier doses of her influence sources.
It remains anyone's guess as to where Tieger can take her music. For open-minded listeners, she offers something new and unusual that's been known for keeping listeners hooked.
Her Facebook music page and her MySpace account have her most current information.

Follow me on Social Media!