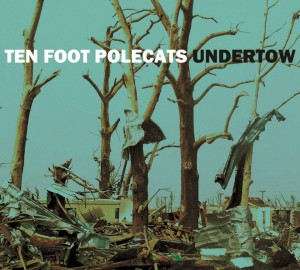 Ten Foot Polecats latest album Undertow serves up more of their blues drenched sound that they squeeze out of their basic trio of vocalist-harmonica player Jay Scheffier, guitarist Jim Chilson, and drummer Chad Rousseau. Distilling blues down to its essence with only three instruments and a voice, Ten Foot Polecats come up with something more bluesy than many of their contemporary local artists who layer horns, keyboards, and additional guitars over minimalist beats.
Opening their disc with "Do That Thing," the Ten Foot Polecats offer some of the tightest ensemble playing around. Drummer Rousseau keeps a compact beat moving down the passing lane at a fearless pace. Scheffier makes his harmonica scream out a frenetic line until he puts it down to sing in his whiskey-soaked vocal belt. Guitarist Jay Chilson bangs out furious blues drenched chords that run like there's no tomorrow, constantly grinding out a crunchy earthy tone that is beautiful in its throw caution to the wind fury.
"Lost At Sea"  is a juke joint jiving number with bracing guitar rhythms and greasy guitar work. Scheffier is low and guttural, sounding like a seriously experienced blues belter as he sings over that nimbly picked crusty guitar style. The harmonica duels with the guitar melody, making a grindy twist of whistling notes that daringly taunt fate by getting close enough to create a rough dissonance.
"Out In The Rain" is a rapid beat shuffle that requires the full strength of the trio's talents to keep the pace. Drummer Rousseau is smacking those skins with meaningful drive as Chilson serves up a speedy chord progression that makes you feel the highway wind. Scheffier is at his usual raw earthy best, finessing the tempo with his deeply felt rasp. His vocal, like the instruments, is rich in timbre, tone, and color, and that is what gives The Ten Foot Polecats their advantage over other local actors. They just so real, authentic, rooted in another time period in American music.
Slowing things down to a gentle cruise, "Worried Sick" takes a turn for the contemplative. There is such richness in Scheffier's voice, and it resonates well at this take-your-time pace. Chilson and Rousseau add some tasteful touches on guitar and drums too. The guitar emits an interval of humming notes that warmly fill in the space around the vocal. The drumming adeptly varies the number of smacks around the beat, keeping the listener focused on the cool grooving feel.
Instrumental title track "Undertow" begins with a hint of danger and misadventure in its sinister guitar picking style. You feel intimations of harrowing things to come the more Chilson picks his minor key moodiness. Up tempo drumming kicks in to support a more daring, assertive, and speedy take on the guitar line. The boys have us wondering where we will end up at the finish of this journey into the unknown.
The trio ride roughshod over a traveling shuffle beat on "Prescription." Scheffier is at his guttural best as he pleads with his physician to write him up a slip for pills. Without his medication, he'll lose his mind, and the music reflects this with frenzied guitar phrasing and brisk, racing harmonica lines.
"Moonshine And Mud" is the most blues drenched song on this blues drenched album. Scheffier makes his rasp ride the groove before he unleashes a leaping harmonica melody. The guitar and drum pump out the most palpable groove on this collection. You want to move your feet and drink whiskey at the same time.
"All Over Again" is another driving shuffle beat number. Rousseau gets a great sound out of a simple pattern, showing it's all in the deft touches. Chilson taps out a bunch of rambunctious notes, greasy, fast, grinding and sliding all over, filling in an old time radio tone. And it goes without saying that Scheffier takes advantage of this speedy route, belting out bits of lyrical joy about being in love "all over again" with a special one-of-a-king, good loving woman.
The three teamed up to compose "Leave Well Enough Alone," a number that hearkens back to the old blues warning songs. There is a hint of Robert Johnson's vintage dire lyrical implications. Scheffier's self-restrained crooning keeps the tension just beneath the surface, and it's crackling enough to keep the listener on edge until resolution. Chilson's spicy guitar picking style carries this one along sturdily while injecting enough bumps in the road to make the ride more adventurous.
"Shibble" gives Scheffier a chance to finesse some funky rhyme schemes in the lyrics. It's unclear exactly what a 'shibble' is, but he sure likes singing about it, over a thumping drum roll and bouncy, springy guitar chords.  Scheffier injects a harmonica line to drive the devil out of his system, and the whole thing adds up to a song that could get serious airplay if it's sent to the right radio stations.
The trio close out with "Someday(Your Pain Is Gonna End)," another of their songs that conjures a feeling of menace in the minor key guitar work Chilson unfurls and in the cautious drawl Scheffier sings out over the drum march of doom. The three create a seriously real sense of drama, enough to make you picture two gunfighters walking closer toward each other in the center of an old western town. Aside from the drama, the tunes moves toward resolution with an even pace that lets the listener ease his way out of a tension filled thrill ride of an album.
The Ten Foot Polecats have come up with another fine album of original material that sounds very much steeped in the vintage electric blues of the pioneers. Their lack of a bass player lets their blues sounds move around more freely, creating dissonant grooves that give real edge to the guitars, harmonica, and vocals. This trio will long be appreciated in the New England blues community for keeping it real, and Undertow is a generous postcard from a band that is coming at us from a serious blues location.