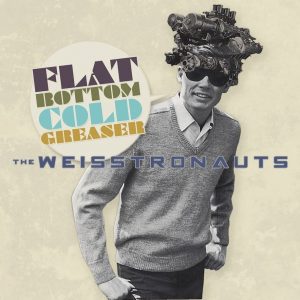 The Weisstronauts rock right out with yet another fine bunch of instrumental guitar rock tunes on Flat Bottom Cold Greaser, their sixth full length CD since forming in 1999. Their unusual combo of guitar styles and rock subgenres make for many fun moments. They also keep things interesting.
Lead by the band's namesake, guitarist Peter Weiss, the unit is rounded out by guitarist Kenny Lafier, bassist Kevin Quinn, drummer Nate Logus, and multi-instrumentalist Jeff Norcross who plays each of the above depending on where he is needed.
Title track "Flat Bottom Cold Greaser" opens the disc with sharp brittle guitar melodic phrasing supported by a light, slappy rhythm guitar. The two guitars dovetail with a rock and roll simplicity that makes this a fun track but also an interesting one as the listener tries to guess which influences had poured into this creation.
"Babacab" fuses the shuffle beat from old country and old blues songs with a snappy, twangy guitar. This uptempo dandy could pull some talented dancers onto the floor while entertaining with its speedy energy. About half way through the guitarist use their effect pedals to create a whirling space age vibe before coming back to a fun night at Chucks' Bar & Grille in Nashville, so to speak.
"Teenage Wedding" conjures a late 1970s punk rock vibe with it brisk rhythm section and edgy guitar mash up. Tight as hell, it's a joy to hear these players rock it up in such a disciplined unison.
"As It Stands" features a couple of out-on-the-range guitars lines. The players could be on a cowboy movie film score as their twangy but seriously disciplined guitar work connote some kind of impending action. There is a subtle build up in drama as the two six strings do their dance.
The strangely titled "Kidney Pie" finds this combo playing a danceable, oldies influenced rock and roll. Consistent, simple intervals of guitar and bass and drums become larger than their limited framework with clever accents on the right notes. This gives the tune enough snap, crackle, and pop to keep the listener glued to the end. It's also fun to try to trace the influences from surf, oldies rock and roll, and 1960s pop-rock and follow how and where the band has fused them together.
"Nervous Ernie" is a steady build up, from simple intervals of pretty brittle notes to a more complex run of notes that become forceful in their accents and rhythmic drive. One can listen for the clever way the guitars are intertwining to form a forceful mesh or one can appreciate the infectious groove coming from the rhythm boys. Nothing is ever simple in this song even when it is being played with simplicity.
The Weisstronauts even become masters of acid rock. On "Spatial Tick," a number with rippling guitar runs that remind of early Pink Floyd, saxophonist Dana Colley unfurls something that sounds like Beatnick era, psychedelic jazz. The guitars sound almost like warning sirens as the Colley jazz line becomes urgent, almost screaming its excitable lines.
"New England Boiled Dinner" finds the boys playing plenty of flinty guitar lines. Punctuated by the full band and others shouting the title as a kind of chorus, this tune showcases a lot of punchy guitars, bass, and drums. There is also a strong, fuzzy guitar phrase that moves around with the tenacity of a powerful snake.
The band has fun with the traditional James Bond movie theme, a favorite of guitarists for its flinty drive and mischievous tone. Rocked up with drums and bass, this one will conjure images of Sean Connery punching out those international bad guys before racing away in his Aston Martin. Next, the boys move into some interesting experiments in "The Bond Variations," a journey into some adventurous guitar-bass-drums inspired by the James Bond theme.
"Antidisestablishmentarianism" is actually a dreamy, easeful motion of snappy guitar and softly applied bass and drums. It conjures a feeling of just unplugging from our material world of rules and regulations and lounging in the pool while the rest of the world mopes along its weary way.
Close out track "Don't Get Him Mad" features an aggressive, fuzzy guitar line pushing everything clear of its path, carrying in its wake the steady hand of good drums and bass. It is a fine contrast between the even Steven quality of the groove as the guitars do a fancy tango, twitchy notes that can't wait to go somewhere special.
Flat Bottom Cold Greaser will have a place in any stereo system that's being utilized to entertain a lively party. A live show should find The Weisstronauts to be the life of the party. They keep the energy and the fun coming at us nonstop.