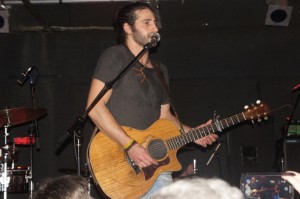 Adam Ezra Group kicked off their second CD release party last night at Brighton Music Hall in Boston. A gathering of AEG fans made it feel as much like a homecoming celebration for the band as a release party. Ezra began the show with a solo acoustic spot to sing his new drinking song, a Celtic influenced piece that created an informal celebratory tone for the rest of the evening.
There was a large communal feeling. Boston loves this guy and his band and their music. The entire room felt more like a family reunion than just another music event. "Takin' Off" was marked by a tender picking style by Ezra that made the song feel like a family favorite on the back porch in summer time. Throw in some light touches from Josh Gold's piano and sweet fiddle bowing from Corinna Smith and you have a classic Ezra song shared by old friends.
New song "You Speak Girl" was Ezra's commentary on the differences between the sexes, which he described as "two different species" in his intro. Gold's strong piano notes and thick chords carried it along like a sweet dream while the front man sang of his observations. Gold, the true maestro in AEG, offered a variety of keyboard textures last night. He played heavy funk, organ swirls, elegant piano tinkling, and even a wild sound that came close to sounding like an electric guitar.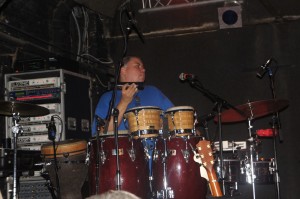 Another newer song "We're Goin' Out Tonight" was a pleasant ditty driven by Alex Martin's concise drumming and adorned by Smith's spirited fiddle bowing. It's actually a very clever number. The brisk pace of the song belies the tender insight Ezra offers and his smooth vocal approach here hit the spot.
Using another of his nifty percussion toys, Turtle ushered the audience into the angst-rock of "14 Days." It rocked right out with salty acoustic guitar, edgy fiddle, and a steady marching-like beat. A thumpy groove and a screaming, roaring, moaning keyboard phrase carried the meaning of despair. It was also a good number to showcase the growing on stage chemistry and harmony vocals between Ezra and Smith. Smith is coming into her own as a force to be reckoned with in this group. She got to co-sing lead vocals later in the show and revealed an angelic sweetness and purity in her carefully measured phrasing.
Ezra performed a couple of solo acoustic numbers, reminding us what a beautiful song Bruce Springsteen wrote in "Thunder Road," with his huge, handsome, husky vocal sounding out over the sparse acoustic accompaniment. "She's Just A Girl That I Knew" found Ezra working his vocal and acoustic guitar through his hip melody line. Contemplative, he made you feel what he was feeling when he wrote it, with a voice full of resonance and richness.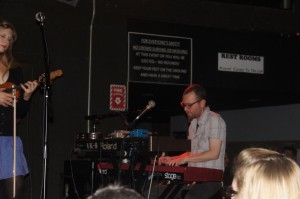 Ezra's band members rejoined him on stage, in grand style. Turtle made a percussion instrument out of his two blocks of wood. Ezra and Smith belted solid harmony lines. The electric bass from Francis Hickey was fulsome and rangy. Martin played an old time country shuffle beat. This maelstrom of instrumental energy shifted gears when the fiddle chirped beautifully over a wide solid sound conjured by a bass guitar and bass drum synergy.
Ezra's rapid vocal patter on "Basement Song" made listeners feel his urgency when he listed his social grievances with everything from a lack of school supplies to homelessness to wars fought by the poor so the rich can pay less at the pump. You couldn't help but follow along with his personal swaggering way of making magic while making a point about what the world is today. His passion burns through his lyrics and through his husky vocal like a man possessed by a dire vision and needs to share it before it drives him mad.
With his harsh warning about harsh language in the next song, Ezra drew us into his humorous, f-bomb laden lyrical interpretation of Charlie Daniels Band's "The Devil Went Down to Georgia." Renamed "The Devil Went Up To Boston," Ezra went into his Boston area imagery, including lobster bake and T cops, to tell the tale of Satan getting his butt kicked by local Sully in a fiddle contest. The song remains a hoot even though we've heard it a hundred times. It's also a great vehicle for Smith to showcase how aggressive and rocking she can make the fiddle. That woman can conjure up a whole country hoedown all by her own self.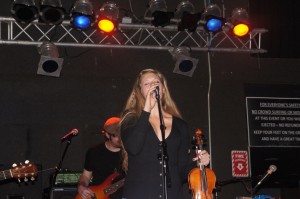 "Burn Brightly" was as much a Josh Gold vehicle as it was another display of Ezra's words and passion. Gold's elegant piano tinkling carries the heart and soul of the tune with its gentle, sweet tones. Ezra uses his monologue portion of this song to say what his on his mind. He must have been happy with the world last night because he didn't really have anything to protest or comment on.
"Playing For Two" was notable for how the rhythm section carried it along, bulbous, smooth bass runs, like waves of sound, built into a lilting groove. New song "Life Of A Thief" got a percussive boost from Turtle's metallic piece that made a swishing beat. Percussion and banjo blended perfectly with a funky keyboard line, highlighting once again how well the group can weave one hell of a texture out of a place others might not dare to go. Whoever said country roots fiddle couldn't compliment organ funk?
"3 Days," from the previous album Daniel The Brave, offered another fine chunk of acoustic guitar, fiddle, and percussion with rock and roll rhythmic underpinnings. The brisk roots-rock of "Steal Your Daughter" made the most of banjo and fiddle to conjure an old time preacher song vibe while Turtle kept smashing two trash can lids together for a percussive clang. The group empowered this one with true Americana spirit, country grit, and musical verve. Martin's pushy groove perfectly bossed the upper register instruments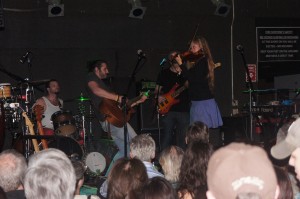 and vocals along. Ezra belted it with the attitude of a gospel preacher from a simpler time and his vocal sustain kept everyone hanging on for dear life to each nuanced tone.
The encore began with "Scandal," an Ezra staple that playfully knocks Boston politics as the front man unfurls his poetic lyrical description of corruption and mischief. Turtle's impromptu percussion with trash can lids and drumsticks and Gold playing the spoon against his lap may have been the band's most intricate rendition. "Miss Hallelujah" began with Gold's warm familiar organ notes and continued through with Ezra's smooth low tenor full of richness. A navy seaman came back up on stage for the second time to dance-act-do American Sign Language to the lyrics. Motivation from the rhythm section and swaying fiddle lines added extra spice to this quintessential AEG song. Each band member played it the way each felt it, and that made their crowd feel great because it was real.
Adam Ezra Group have now accomplished the dangerous mission of putting out a live album. Last night's show was intended to highlight the new album, and it did. Yet, as with all AEG events. It wasn't just a concert. It was a celebration between a band and a fan base that have developed personal synergy.