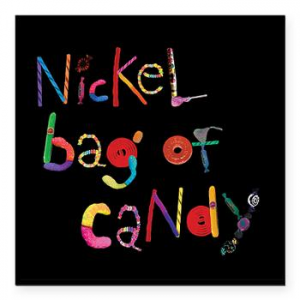 Lisa Marie & Silverstone Steve have got an acoustic duo act that's as polished as most four-piece bands. Lisa Marie's raspy, svelte belts and coos saunter over Silvertone Steve's crisp, blues-roots, multitude of picking styles like nobody's business. On their new album of classic cover songs, Nickel Bag Of Candy, the two nail sweetly appealing version of 13 songs by some of the greatest songwriters of our time.
Their take on Paul Anka's "It Doesn't Matter Anymore" finds the pair combining Silvertone's warm strumming with Lisa Marie's emotive, forlorn, considerate croon. She caresses the song with her carefully placed accents, her voice rolling on while resting for emphasis in the most special places. Silvertone makes the listener feel the sense of loss when someone finally realizes it just can't go on.
Fred Neil's tune "Everybody's Talking" forces one to recall the first time they saw the film Midnight Cowboy. Here, Lisa Marie infuses it with a sense of longing, longing for a better place, something we universally understand, so listeners will feel what the song is about. Silvertone Steve picks some gritty melody lines amongst softer strums so you get a further indication of the emotional depth in this song. His added dimension feels good underneath Lisa Marie's closing soulful coos.
Lisa Marie and Silvertone Steve must really like Fred Neil's work, following up with his "Handful Of Gimme." Lisa Marie adds a slight edge to her vocal process, her voice swaying over the melody line with a raspy pause to thicken the hip vibe. Underneath, Silvertone Steve unfurls a winding blues idiom melody line. The two make you envision them playing it this way in a smoky, early 20th century Mississippi juke joint. This is one of those recordings that make you hope an artist gets the recognition he/she so richly deserves while they're still on the right side of the grass.
Lisa Marie gets spiritually deep when she sings out "Down In The Valley" with a forceful but measured belt. Composed by Solomon Burke and Bert Russell, the tune revolves around an energy that builds from its lyrical core. Only singers like Lisa Marie, with her rangy voice and rich timbre, can awaken the emotive qualities. She sings this one with the power of a large gospel choir. Silvertone Steve keeps the accompaniment beautifully rootsy, sublime, and understated. His twisty, colorful notes leave plenty of space for Lisa Maries' huskier belt to ring out in all of its colorful fullness.
The Rolling Stones song "No Expectations" seems too perfectly written for any artist to not make it work. Yet, only artists with the right touch can put it across with the heft of feeling it calls for. Lisa Marie takes her time rolling out her solid croon. She injects it with bluesy rasps while Silvertone Steve handles the greasy acoustic slide guitar magic. This makes you feel you're sitting outside an old fashioned gasoline station, letting the warm summer breeze buffet you as your thoughts wearily travel your mind, a southern summer climate compelling a mellow mood.
Lisa Marie shows her flare for oldies pop-rock melodies on Buddy Holly's "Oh Boy." She accents her vocal notes so perfectly here that you can picture a 1950's juke box motivating kids in letter sweaters and poodle skirts to cut up a rug. Silvertone Steve too infuses this with a fun, 1950s style rock and roll melody line. He also slaps out the chords to help build a bulbous momentum during the familiar chorus.
The pair take their time filling in the colors and tones on "Love Letters" by Edward Heyman and Victor Young. The basic theme of loving someone who is far away through written reminders get a breath of fresh air here. Silvertone picks a hearty, emotive melodic line under Lisa Marie's emphatic vocal application. In lesser hands, this song would likely fall flat on its overly used universal theme.
Written by Bert Berns, "Here Comes The Night" was a huge and timeless hit for Van Morrison and Them after they released their version in March 1965. Silvertone Steve lulls us right into its familiar melody notes with his warm interpretation. Lisa Marie, not trying to invent the wheel on this one, applies her crisp, sharp timbre to the rising and descending vocal melody, resulting in something tender, honest, and just plain fun to reminisce to.
"Try Me" by Mr. James Brown" comes across as a warm tender ballad in the hands of Lisa Marie and Silvertone Steve. The harmony vocal makes this into a three dimensional song. Silvertone's backing vocal, which soulfully follows Lisa Marie, opens up a second emotional backdrop. The two manage to layer this one a bit while maintaining its sparse beauty.
Blues staple "Too Much" by Bernard Weinman and Lee Rosenburg was a big hit for Elvis Presley. You can't go to blues venues weekly without hearing it about a half dozen times a year. One never tires of it because its nimble melody line, when played skillfully, is irresistible as temptation. Silvertone Steve hits each note with just the right touch of finesse so you can't wait to hear the next note. He plays it with a swaggering cool that gets noticed as Lisa Marie continues her fine form, carefully measured vocal approach, making her voice travel across the field of suggestion.
Chuck Berry's "I Wanna Be Your Driver" has the usual Berry celluloid visual imagery and this is one of his particularly suggestive ones. Lisa Marie captures the erotic enthusiasm in that old style way of emphasis. Silvertone nails the acoustic guitar style down to something in between blues and oldies rock and roll. Straddling two musical guitar genres conjures the feeling that something intense is going on and Lisa Marie is no debutante at the double meaning numbers.
Bert Berns had a tender side to his songwriting. "Cry To Me" comes to life here as Lisa Marie builds a solid story arc with her accented belt. Taking her time, she unfurls some tastefully restrained sustains, and holding back some of her power makes her song all the more powerful. You can feel the tension simmering just beneath the surface and that keeps you hanging out to each note she soulfully projects. More greasy slide from Silvertone gives the listener a second way into this number. It's played as if each finds their own way to the listener's heart and they, by happenstance, meet perfectly on their own accords.
Ellas McDaniel's "Cadillac" dances across the listeners imagination of the strength of Lisa Marie's rolling belt and Silvertone's bracing rhythmic endurance. You'll want to move your feet to this one, even though there's no bass or drums. Lisa Marie's coo on the chorus swings into action at just the right moment and with just the right color. You can picture all the nightclub patrons making their way to the dance floor back when this one was hot.
Lisa Marie & Silvertone Steve offer a nice slice of American roots music on their Nickel Bag Of Candy CD. For your five cents, you get a whole lot of different flavors and they all feel good as well as sound good, especially on repeated listening. Let's hope this duo lasts a long time on the New England music scene.