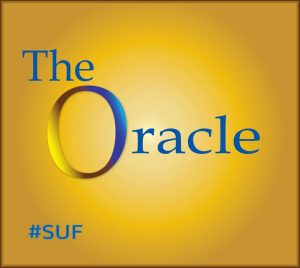 The Oracle is a four piece progressive funk-rock instrumental band in which three out of four members are gear heads with endorsements from manufacturers of fine musical instruments. So, we know before we listen to their #SUF album that they will be playing some cool, intricate music with an emphasis on quality sound. This nine track album, which includes two live versions of the two of the seven, mostly studio songs, count as individual tracks for their interpretive distinctions.
Opening track, "Airplane Funk," credited as a whole band composition, finds the band's guitarist Scott Tarulli pressing out some tasty high notes with the greatest of care. It's like he's massages his strings and they respond with a pretty cry. Guest musician Lance Martin peppers this funky flight with his every so ginger flute notes, another dimension of sweet melody here.
Bassist Joe "Jam" Sumrell contributes "In The Middle," a plucky bass oriented number full of nice knobby, twangy bass notes. From there, those bass notes form a solid line "in the middle" space between the drums and the upper register instruments. Raw, soulful organ notes and a grinding, feisty guitar line flag down the listener with each measure, making musical statements of their own. Fine ensemble playing marks the remainder of this tune.
Scott Tarulli's "Shade Dance" bops along a merry course. Along the way, this one just keeps smacking forward with brisk drumming and fine slappy keyboard work. Those forceful moments clothe Tarulli's crucial guitar line with nuggets of sound. Amidst the pushy groove, the guitarist presses out a thin but feisty guitar line that intrigues with its timbre and twisty path, snug inside the other instrumentation. Impressive how Tarulli keeps his creative, free flowing line so low key, never letting its cleverness overwhelm the rest of the sonic structure of this piece.
"Sunny" is an appropriately named song. Written by Bobby Hebb, this arrangement finds keyboardist Yusaki Yoshimura sprinkling the groove line with bright, light, and pretty piano notes. Classy, eloquent, subtle, he sends all of his notes skating merrily along a gripping melody line. Each tap of the ivories suggest joy, with each space between those notes allowing room for a sprightly interplay.
Group composition "Snuggle Noodles" features good interplay between Tarulli's squeaky clean guitar line and those players who are pumping out the groove. Tarulli plays a light, skittering melody line. Then, Sumrell replies with a free flowing excursion of thick, knobby notes. Tarulli finds even greater freedom as this piece progresses, showing what he can do with his fine sense of self-discipline as his line builds itself up into a higher place. Trading riffs in the final section allows the band to pepper their tune with numerous bright moments.
Another group composition, "Skinny," features the band members in fine ensemble form. Here, each contributes the more subtle applications of their instrumental art. Tarulli presses out a pretty songbird of a melody. The rhythm section is alive with a jazzy feeling that is both free and palpable. The keyboards rain down soft, bright notes that keep the entire affair shiny, sprightly, and energetic. One can lose oneself following what each player is accomplishing here.
A cover of King Floyds "Groove Me" closes out the album with guest vocalist-guitarist Sonya Taylor. Taylor takes the spotlight with her indelibly raspy, soulful lead vocal. There is a large presence in her voice and it keeps the listener focused each time she resumes vocalizing. There are other gems embedded into this song. A lead guitar line moves around with determined power. The keys give it all a suggestive sway. The rhythm section makes it move with its own kind of sudden motions.
A couple of live tracks take this recording into the full length category. A live rendition of Tarulli's "Shade Dance" gets a more aggressive treatment in this performance. The players seem busier and they go to town, making the most out of each note they hit. Its funky groove can crash through closed doors and knock things through walls.
A live version of "Groove Me" grooves even faster than the previous cut. Taylor's voice is larger and sharper here as she lets her hair down at the microphone. She carries it with more breathy excitement here and she leads the band through a brisker, freer take. The lead guitar is sharper and the rhythm section heavier.
The Oracle and their guest players have come up with a fun calling card to introduce themselves to more venues in the greater-Boston area. Nothing beats a band that can comp up with fiercely good music that manages to be fun at every turn.