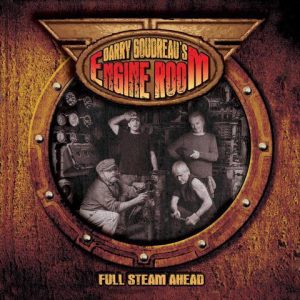 Barry Goudreau returns to top form with his latest project Engine Room. His creativity and his manner of expressing it come across in fully realized, three dimensional songs that are much more interesting than the material he recorded with that other band out of Boston in the 1970s. The Engine Room debut CD, titled Full Steam Ahead, is also much better crafted and much more evolved than the album Goudreau made a few years ago with the car salesman. Somebody must have added a turbo shot to Goudreau's coffee because this lead guitar man plays like a streaking meteorite that's never coming down.
Opening track "Need" is refreshingly good rock and roll. It has a rushing, urgent energy in its full throttle guitar phrase, its relentless groove, and in its smooth, soaring vocals. Feeling lofty and airborne and racing at full speed, "Need" weaves a robust sound out of thin air.
Crunchy, bluesy guitar work from Goudreau and greasy harmonica lines from guest musician James Montgomery make "Layin' It Down (In Beantown)" a tune with multi layered allure. With much for the ears to feast on, this tune rocks out on the two melodic instruments while the raw, emotive vocals of Brian Maes and some soulful ladies on backing vocals keep it essentially cool. Their chorus is irresistible.
Slow boiler "Time" comes wafting in on the strengths of a breezy, smoky guitar line and on Maes's soulful, heartfelt crooning. Things get even mightier when Maes belts with muscular and spiritual authority alongside a gospel like trio of backing singers who surround his vocal with their own effusion of wide, arcing emotion. Goudreau's lead guitar phrase is like a human soul crying out all its needs and wants during a time of healing and recovery.
Goudreau and company swing back into rockin' action with "Treat You Right." The rhythm section of bassist Tim Archibald and drummer "Old" Tony Depietro give this one a solid stomp. They keep the head bobbing and the toes tapping to their pushy groove. Meanwhile, Goudreau wraps his lead guitar phrase tightly around that groove, giving this one a solid ensemble feel. Likewise, Maes layers his assertive organ work around the palpable engine of this tune while he nails the feel and vibe of all of the classic rock era songs that inspired this piece. This is certainly a fine, cruising down the highway tune.
Still in that rockin' frame of mine, this outfit kicks out "Dirty," a number that contrasts with fine results hard driving, action packed guitar, keys and groove with gentler, high flying female backing vocals. They all spread the energy far and wide, from their gripping build ups to their arcing chorus. It's catchy enough for radio because the rhythm boys punctuate every moment perfectly and because the choir girls make it irresistible ear candy.
"Keep The Faith" is a jaunty, mid-tempo rocker, one coated with a bouncy, engaging lead guitar cruise. Maes sings it with that soulful authority, and he's often surrounded by that tuft of heavenly choir girls. Between the tasty guitar work and the uplifting vocal work, Goudreau's fans will have no trouble keeping the faith. This is a finely crafted and considerately performed number. It just moves with a emotive grace as Goudreau's jagged guitar line keeps one feeling inspired.
"Don't Stop Please" finds Goudreau pressing out a guitar line as scorching as Georgia asphalt in July. Around this sparking lead phrase, Maes bangs out a relentless piano line amidst breakneck drumming and a throbbing low end. Clearly inspired by all of those no nonsense, take no prisoners classic rock numbers from the early 1970s, they all play like there's no tomorrow and this is their last chance to put a dent in the world.
The boys take it down in tempo but not in energy or pluck during "Why." Maes's raspy vocal and Goudreau's tasteful lead guitar line compliment each other brilliantly. The song carries itself with plenty of lift. Goudreau continuously pays out a sprawling phrase, one that keeps scaling the sonic landscape of the song while the vocals rise up and dance around it with lofty aspiration.
The song's most obvious hit single, "Ball Keeps Rollin,'" has the mountainous instrumental build up and even larger chorus that practically screams "spin this" at programmers at local radio stations. Goudreau's sharp, searing guitar line keeps taking it higher, arriving at a place where the female backing vocalists are already standing. The girls keep it momentous before Goudreau uses a voice box to create the funkiest wah-way sound in town, segueing into Mae's forceful, sweeping organ chords. It all amounts to a gripping, powerful number. I dare anybody to listen to it only once.
"Reason To Rhyme" returns Goudreau to his 1980s Orion The Hunter flavored tones. The lyrical sensibility is smoothly poetic and the lead vocal has an epic, standing on the edge of tomorrow expanse. Goudreau must be playing his guitar through a time machine as he captures the magic of a time in music when sound recordings were becoming more polished, wider, and quietly romantic within power ballad structures. Lead and acoustic guitar melodies have an appealing shine here and the lead vocal flows with honey smoothness and river force.
Goudreau and his boys take another sharp turn on close out track "All Mine." It conjures a vibe of listening to a few front porch musicians creating a sparse but meaningful tune. Bluesy electric and acoustic guitars and a deeply expressive voice mosey along, their melodic sway and vocal lift leaving tender afterimages of the earthy, organic sounds that they make and the feelings that they conjure. This tune might make it onto a Sunday morning blues radio show. Like Carter Allan's.
Goudreau and his pals have come up with a hell of a project with Engine Room and this Full Steam Ahead album is aptly named. Goudreau, Maes, Archibald, Depietro along with backing vocalists Mary Beth Maes, Terri O'Soro, and Joanie Cicatelli form into a perfect machine that pumps out high octane rock and roll, deeply felt blues, and even a special blast of 1980s power ballad. Heck, Goudreau might even be able to finally step out from under the shadow of that other rock and roll band.