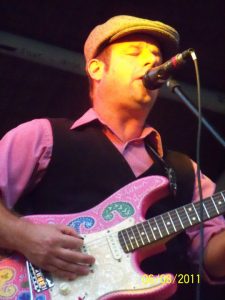 Hello again gentle readers,
I've compiled some more news about upcoming music events. I'm sure something or other in here will tickle your fancy.
Casting a tall shadow over the New England blues scene, guitarist Arthur James has a presence that looms large at gigs and jams. A finalist at the International Blues Competition in Memphis, James will be playing the following shows: Arthur Solo @ Salt Hill West Lebanon
Friday, May 12 at 8:00 PM – 11:00 PM
Arthur James Band @ The Steakhouse
Saturday, May 13 at 8:00 PM – 11:00 PM
Sunday, May 14 at 6:30 PM – 10:00 PM
Friday, May 19 at 7:00 PM – 9:00 PM
The Lucky Bar on Cabot St. in Beverly hosts a closed mic invitational every other week. This week, on Thursday night, May 11, Dave Bailin is back as their featured performer. He'll go on at about 10:00 p.m. and play for an hour. Then he will accompany the host and jam out for the rest of the evening. http://davebailin.com/
Also on Thursday, May 11, Gardner Berry brings his Dueling Pianos to The Stumble Inn in Londonderry, New Hampshire. https://www.facebook.com/DuelingPianosNH/
Fri May 12, 2017 – Cheryl Arena duo with Danielle Miraglia at Strange Brew Tavern at 88 Market Street, Manchester NH, 9:00 p.m. This writer recommends you get there early, grab a seat in the section in front of the band, or, the tables just on the other side of the ramp leading into the stage area, or just hang out on the ramp itself. Try the potato skins and the Strange Blu Burger while ordering from Mitch's huge beer selection.
This Saturday May 13th Boston's Lovewhip brings their infectious original mix of psychedelic rock, reggae, dance-pop, and world music to Opus in Salem, MA! Fans may have heard the band's song "Wrecking Machine" on SHOWTIME's hit TV show Shameless!
https://www.facebook.com/search/top/?q=lovewhip%20%40%20opus%20in%20salem%20ma
Another Saturday night show: Laura Vecchione performs a CD release show to benefit Family Promise MetroWest at The Center for Arts in Natick on May 13 at 8 p.m. Jodi Heights opens. Tickets: $35. Info: 508-647-0097. www.LauraVmusic.com
If that isn't enough to choose from this Saturday evening, there is a bluegrass show at the OnStage! Concert Series at Chevalier Theatre in Medford, Massachusetts at 8:00 p.m. http://www.brownpapertickets.com/event/2802643
Thursday, May 18, 2017, TOKYO TRAMPS will be on "Thursday Night Live" at Hugh O'Neill's in Malden, Massachusetts.
https://www.facebook.com/events/1333886260034674/
At 30, saxophonist Noah Preminger is one of the most artistically ambitious jazz artists of his generation. The Boston-based saxophonist Noah Preminger will be at Scullers Jazz Club on Thursday, May 18 to celebrate his new album Meditations on Freedom. Show at 8 p.m. Tickets $25 (dinner and show $75). For information call 866-777-8932 or visit www.scullersjazz.com
Much And The Mires on SATURDAY, JUNE 10 – BEVERLEY, MA
SPOTLIGHT TAVERN
w/ THE REAL KIDS and Greg Allen's Fringe Religion.
June 10 Ruby Rose Fox kicks off her biggest national tour yet at Brighton Music Hall. Other acts that night will be Halo Circus, George Woods, and Florie Namir. http://www.rubyrosefox.com/
Downbeat Mondays at The Sinclair, Cambridge Massachusetts continues with Matthew Stubbs & The Antiguas, every Monday night, at 10:00 p.m. No cover. Matthew Stubbs & The Antiguas are working on their first full length CD of original music and a few standards. Chicks dig the keyboard player. https://www.facebook.com/Matthew-Stubbs-The-Antiguas-483948111774631/
That's all for now folks. I hope to see you out there at a show. If you see a very handsome man, bald, goatee, glasses, with a notebook, pen, and camera, that's me. Come over and say hello.