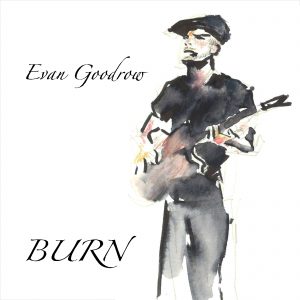 Evan Goodrow's latest album Burn makes the most of this local blue eyed soul man's electric guitar talents and svelte vocal ability. Goodrow keeps himself tighter with his trio than he's ever played before, and he throws in a few pleasant surprises with his song selection.
Opening track "Let's Burn Everything" swaggers in with hip drum work and riffy guitar playing. Goodrow's soulful voice is still intact, emoting with quiet force as he sings about a self-destructive love. Coolly detached, Goodrow draws in his listener with his understated delivery, floating his voice over an irresistibly catchy guitar line, sailing it straight and smooth into his hooky chorus. And boy, are he and his band mates tight here, his trio rounded out by bassist Greg Toro and drummer David Andrew Moore.
"Last Night" finds the blue eyed soul singer crooning as deep as ever. His rich vocal fits his high stepping funk playing and funk support like a glove. Goodrow emits just enough of his vocal in each small emotive bit. This keeps his song intriguing, cool, catchy, and reserved all at once. He lays out a nimble guitar phrase that burns, coiling around the groove.
"Voices In Paris" smolders its way into the listener's consciousness with a hot, incisive Goodrow guitar phrase. Goodrow's voice unfurls over the groove with a persistent, reflective cool. His breezy chorus gets a boost from his snappy guitar notes and from Toro's smooth, thick low end run. We're talking about Evan Goodrow, so you know there is going to be a fantastic guitar line showing its true colors and tones here and there. It is a jittery line that asserts itself with tuneful play, jumping up from the groove and dancing in the open spaces.
Down tempo and reflective, "I Still Think She's Mine" lets Goodrow show what he can do when he has a mellower groove to trod over. He sings with confident, emotive force and he plays an incisive lead phrase that expresses the pain and frustration of his words. Lyrically, he describes well the feeling of the heartbroken, downtrodden soul wandering lonely down city sidewalks and into establishments where he still runs into his lost love. It only deepens the sense of what this person is going through when Goodrow sings it with his reserved vocal demeanor.
Toro walks the Steely Dan cover, "Peg," right up to the listener's ears with a lilting, knobby bass line. Moore's down tempo backbeat pushes it forward with an understated force. Over that groove work, Goodrow offers a paired down electric guitar version of the original melody line. His phrase feels as much like a horn line as a guitar's, a flow of easeful notes that reminds more of a jazz interpretation than funk. "It will come back to you" how much you love this song when you hear this Goodrow-Toro-Moore arrangement.
Goodrow and his boys funk things up even more with "Waiting On A Rainy Night." Jumpy guitar riffs, intricate, bopping bass guitar notes, and a concise drumbeat make up the fun ingredients inside this danceable, head bobbing, toe tapping number. Goodrow unfurls a brittle thin phrase that cuts through the groove with soulful authority. It makes you feel something even deeper when that guitar line raises its sharp edge.
Only Goodrow could pull off such a fine cover of Otis Redding's "Sitting On The Dock Of The Bay." Goodrow's rich, soulful vocal wraps itself perfectly around the original's world weary lyrical content, his vocal depth anchored by his rhythm section's pulpy, alluring groove. Goodrow emit's a guitar line that whistles the melodic line prettily in the reserve of space between his voice and his rhythm section. As with "Peg," there is a bit of jazz in the arrangement because it flows with the ease that only highly disciplined musicians can deliver.
Goodrow and company close out with a funked up rendition of Phil Collin's "In The Air Tonight." Goodrow handles the vocal with more of a quickly punctuated pace. His nimble, speedy riffs make this one catchy in the groove as opposed to the original being more focused on the voice. Goodrow makes this one his own by singing it in a funk clipped pace and by letting his bleeding soul guitar phrase sub for the original's eerie melodic sprawl.
This Burn album is a nifty postcard for Evan Goodrow's fans. It gives a few clues to his guitar and vocal influences while he stretches out with his wiry guitar phrases. The rhythm section he has gathered for this purposeful album are an essential backbone for his busy work in the upper registers. It will be interesting to see in which musical direction Goodrow will travel this year and next with this tight trio format. Let's hope he keeps up the good work, especially with such interesting covers.