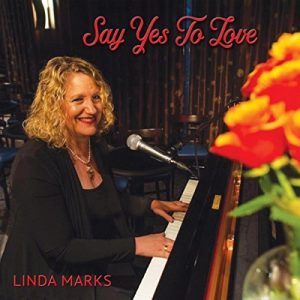 Boston's jazz chanteuse Linda Marks has been a fixture on the local scene for some time now. Her new release, Say Yes To Love, will have you saying yes to Linda Marks. Her voice is remarkably bright and tender, hitting the listener's soft spot on every track. Her knack for arranging material from other artists and songwriters is unerring, always offering a fresh perspective that is likable and engaging.
Opening track "Say Yes To Love" finds Marks cooing beautifully to a lovely acoustic guitar and piano accompaniment. Her voice seems to glide by like a cool breeze, her sustains filling her vocal line with extra dollops of tenderness. This song of ebullient pleasantness is just a treat for the ears.
A cover of "Something That We Do" allows Marks to showcase her imaginative interpretation. Her voice rides the melody line with a sweet, sweeping aplomb, giving herself, her piano, and her flute player their own personal space to breathe. Marks maps out a clever arrangement for her instrumentalists to travel through. Then, her voice over the sensitive melody lines becomes the icing on the cake.
Gordon Lightfoot's "Beautiful" get a fine treatment here. Dave Birkin's saxophone line keeps it unobtrusively romantic, leaving Marks plenty of room to shine and shine she does. Her voice seems to cruise through the listener's mind like a pleasant dream.
A favorite of many, The Carpenter's "We've Only Just Begun" is a perfect vehicle for Mark. She transitions with just enough assertion when the tune moves to a mid-tempo clip heading into the chorus. This greatly contributes to the feeling of the song turning into a personal anthem of love.
"Autumn Leaves" has a soft backdrop that give Marks plenty of space to unfurl her rangy vocal. She hovers grandly, tenderly over a moody piano line and over Terry Smith's acoustic guitar notes, notes that fall as softly as autumn leaves. Marks controls the mood and tone here beautifully, inviting the listener into her private world and getting them to stay there and follow her reflections during the fall season.
Mark's second original composition on this CD is titled "Love And Time," a confection of tender vocals, flute, piano, and Valerie Thompson's moody cello. Marks' chirpy, upbeat vocal climb gives this one a tidal pull. A listener just has to hear where this one is pulling him. A purity of voice and a sense of motion in the vocal melody keep this one lofty and alluring.
Marks has arranged Burt Bacharach's "The Look Of Love" into a down tempo glide. Her voice rises with lofty ambition, reaches a peak, then, when she's ready, falls back down into its original posture. She uses this technique to brilliantly punctuate the rhythm of this song. She give herself, pianist Doug Hammer, sax man Dave Birkin, bass player Dave Landoni, and drummer Miki Matsuki plenty of space to paint a detailed picture with musical colors.
"With You" is a ballad with an amicable feel and tone. Marks carries this arcing narrative by sustaining the crucial words and emotions. Her voice, during the arcing moments, are like the ray of sunshine coming at you when you round that long bend in the high mountain road.
Marks' cover of Cyndi Lauper's "Time After Time" captures the warm vibe of the original while offering her own engaging arrangement. She will make fans of the original fall in love with the song all over again. Terry Smith's nimble acoustic guitar picking creates the kind of notes that make one feel what the song is all about. Moreover, Marks vocal treatment shows true affection for the tune and that makes all the difference.
Marks has also penned a tribute to a friend who isn't with us any longer. "Laura Loved" is a moving testament to a woman who clearly had a profound impact on this singer-songwriter. Marks describes the woman's inner and outer beauty, painting a picture of the person who inspired her so. Lilting vocals and lilting flute over a fine piano tinkling make a perfect platform for Marks to let her emotive and musical intentions ring clear.
Back into The Carpenter's material, Marks has a field day with "Close To You," letting the melody, counterpoint, and vocal line guide her straight into her own retelling. Everything about this tune lends itself well to a jazz interpretation and Marks and company follow suit. Its breezy, floating pace come alive on the strength of everyone on this cut.
Speaking of arrangements of other artists, Marks takes the Glen Campbell popularized hit "Wichita Lineman" and makes it her own. She captures the intended feeling of the lyrics while offering a very accessible jazz rendition. Flute, cello, and piano make a nicely textured accompaniment as Marks lets the notes and the feeling pour out of her.
"I Dreamed A Dream" offers a lovely melodic roll. It's a treat to hear the piano, cello, and the flute run along a bright path to a brighter destiny. Contrasting with the bittersweet lyrical message, it brings the listener an even greater musical and emotional impact.
Marks closes out her Say Yes To Love album with a stunning rendition of Carol King's "Natural Woman." She nails the dusky sultriness with her vocal melody while some tuneful, jazzy support bring it home.
Marks has come up with a fine offering of originals and standards. Her jazz singer's approach is gentle and expansive enough for her to embrace all sorts of genres and material. Her gift for arrangement stems from her open mind and her open ear. Her gift for original composition results in a few shiny gems that find a good home among these time tested standards.