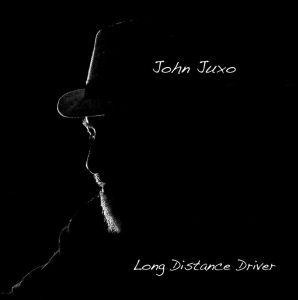 Rhode Island musician-singer-songwriter John Juxo has recently released what might be this year's best New England blues album. Long Distance Driver is at least one of the best to drop in 2017, Aside from offering his own raspy vocals and charming keyboards, Juxo has friends like singer Lisa Marie, saxophonist Myanna Pontoppidan, acoustic guitar player Alex Krepkikh and other area favorites helping him pump out tasty, greasy, toe-tapping blues numbers.
Opening track "Life Is A One Way Ticket" finds Juxo using his mellow rasp to express songwriter Cousin Joe's philosophy of life and finance. Juxo's bluesy, snappy piano antes up the hip factor and the groove. Myanna's saxophone line spices things up, finding the right space to play her wiry melodic phrase. Juxo's vocal comes back in with his usual smooth, seasoned delivery. Backed by the ubiquitous blues chanteuse Lisa Marie, his drawl makes a striking contrast with her own throaty approach.
Title track "Long Distance Driver," written by Dave Maxwell, utilizes a touch of barrelhouse piano to keep this dandy moving at a marvelously brisk pace. Juxo's piano tapping, Myanna's blaring sax, and a rhythm section exceeding the speed limit make you feel like Juxo and his uptempo passengers are taking you somewhere.
Juxo struts his easeful, mellow vocal on his cover of Hoyt Axton's "Lightnin' Bar Blues." Gentle piano tinkling, a ballad paced lead vocal, and gospel like backing vocals flavor this one up well. It all swirls around an inviting chorus that allows just enough room for the rest of the song to move. This lets the song's philosophy of life dominate while opening room for an enticing sax melody.
"Booze In The House" is a lively, piano and sax laced party song. One feels compelled to tap ones toes while imagining the fun people are having to this music. A lilting chorus, zigzagging sax, and barrelhouse piano conjure images of people partying during an earlier time in blues, like maybe prohibition.
Juxo and Lisa Marie have a blast sharing lead vocal duties on D. Hanson's "Let's Get Naked." The two express the joys of being undressed with an ebullient, effusive, and freewheeling approach. It's a blues piano meets striptease musical concoction, something that might have played in the old speakeasies while burlesque dancers strutted their stuff on a makeshift stage. There is also something about the way Myanna's sax melody keeps percolating, rising to the surface, that keeps the ears glued.
Juxo's parody of Bobby Troup's "Route 66" finds that original highway song reconfigured as "Route 146," a tribute to Rhode Island's busy freeway, a freeway that unites all of the little state's blues bars. Bubbly, rootsie piano and bluesy sax keep this one steeped in an old time feeling, a time when people knew how to travel with style.
Juxo's own original number, "Stuck On Ice," has a sly, mischievous air, his whiskey soaked voice sounding beautifully whispery here. It feels like Juxo is whispering a dark, daunting secret into the ear of a troublesome partner. This tune benefits greatly from Otis Read's sharp, flinty guitar work, an edge that adds to the element of mystery surrounding this tune.
"Want You To Feel Good Too" is a hip piano driven, sax laced affair. Myanna blows a freewheeling sax line that speaks of good times while Juxo's piano boogie and a shuffling beat will motivate people to move their feet. A call and response vocal between Juxo and his backup singers give this lively tune another kind of lift, one that feels at once slightly spiritual and slightly sinful.
An accordion laced version of "I Heard You Say" takes one to a New Orleans bar scene. Something tasty and Cajun comes wafting in with the breezy squeeze box melody. Over the easeful gumbo is Lisa Marie's svelte blue rasp. She coats it all with a forlorn but unrelenting tenderness, keeping it sorrowful but gripping, not just vocally but emotively as well.
Otis Read's harmonica line fills a lot of soul into Howlin' Wolf's "Just Like I Treat You." Read graces this arrangement with a country blues feel, one that reminds of front porch acoustic blues. His line is just what Juxo needs here to finesse the vocal with a down home, take-your-time charm. Juxo's lightly tinkled piano line makes a fine companion for Read's enticing interval of notes.
"Really, Really Pretty" races in with some fine, untempo piano jive. Speedy vocals and a zippy chorus make this another fun, old time party song. Moving like rock and roll, Juxo's piano twists remind, somehow, of Chuck Berry's guitar riffs. Myanna's blaring, flaring sax line comes alive at this spark filled, breakneck pace. All of the moving parts come together like a salad bar of many tasteful bits.
Close out track "Call The Police" mixes blues piano and saxophone with Billy Lynott's witty lyrics about stolen love. Juxo and Lisa Marie team up to deliver the rambunctious chorus amidst this mock crime drama. Rhythm section boys, drummer Ben Banning and bass player Lefty Realte keep this one in motion with a groove that seems to express the humor with a swing band sway.
Juxo offers a lot of tasty material on this Long Distance Driver album. His vocals, piano, accordion, and his musical guests deliver like nobody's business. With this CD as his calling card, Juxo will now be recognized as one of New England's top blues artists.
https://www.facebook.com/johnjuxo?lst=100003270056778%3A100000639251443%3A1504742844