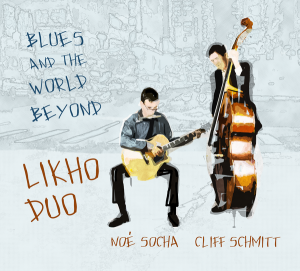 Guitarist and harmonica player Noe Socha and upright bass player Cliff Schmitt play the instrumental blues acoustic style in their Likho Duo. Documenting their song selections in this Blues And The World Beyond album was a wise idea. Their arrangements provide a glimpse into the initial kernel around which these songs were built. What the two accomplish from there is amazing.
"Derby Street Blues" opens the disc with Socha picking some tasty acoustic notes and blowing some thick, zesty harmonica notes. Schmitt, meanwhile, plucks deliciously knobby low end notes on his upright bass. It's a treat for the ears to hear Socha dovetailing his melodic lines around that flexible boom coming from the upright.
Socha, who graduated from Berklee College of Music and played in Boston for a long while, handles the acoustic chords well on Willie Dixon's "Spoonful," framing their juicy, tuneful sound within a stern rhythm. He layers over that his sweet harmonica to sub for a vocal, coming up with something specially woven. Listening to the guitar chords and bass plucks rising in unison is another tasty nugget here.
Schmitt's "The Downtowner" is a sly groove number, down tempo, with a downward sway in the acoustic guitar and upright bass, leaving space for Socha's twitchy harmonica line. He plays that harp with the brassy fullness of a horn, a blast of notes that could knock you down if they weren't so polite. The upright offers its own layer of cool, a run of bottom notes that could be danced to, persistent sustains that color the tune coolly while also supporting the higher registers.
The duo tear into Muddy Waters "I Can't Be Satisfied" like nobody's business. Socha's greasy acoustic slide guitar sounds good enough to eat. His acoustic notes ring out with old time feeling before his harmonica line dances all along with and all over Schmitt's self-restrained groove. The frenzy of notes coming near the end is an explosion of blue expression.
Another tool in their arsenal: the two players are quite adept at creating a sense of mood. Socha's own tune "Romance Among Thieves" has a love song feeling in Socha's warm chord work. There is also a sense of love in the air within his lilting harmonica line. A tightness between upper registers and lower suggest a partner in crime type of bond, a sly camaraderie. A dance between two or more instruments suggests a sense of mischief. Socha slaps out some tender chords as Schmitt races through knobbier notes, their chemistry compelling.
Socha's "I'd Say," another mood piece, has a bold backbone in the low end that suggests there could be trouble. There is a sly personality in each instrument, Socha's speedy, tender chords suggesting there is a slight of hand action going on. Snappier guitar notes suggest a showdown of sorts, especially as the bass is actually following the guitar, and not just in a musical kind of way. It's uncanny how these two players have a feel for each other's presence in the tune. They remind of jazz improvisation in how they know when it's time for the other to lead.
Having a lot of fun with Led Zeppelin's "Black Dog," both players pick the solid groove notes before Socha kicks in with a rangy harmonica line, subbing for the original's vocal. His harmonica sustains are juicy ripe and full of feeling, coming as they do after those brief pauses in this masterpiece of start-stop rhythm.
The two next go into a cover of Willie Dixon and J.B. Lenoir's "You Shook Me." Expressive, rangy acoustic blues guitar is a specialty of Socha's and he makes it rock here. He accents the notes in just the right places and he gets a perfect ringing sound out of them. His harmonica rides the groove with Schmitt's upright bass notes like a partnership of resonance, each pulling out of their instruments something mighty and powerful with their colors and tones.
The boys breathe new life into Freddie King's old chestnut "Hideaway." The piece that every bands seems to warm up with or commence their second set with gets a kick in the pants here. The upright rumbles with the flexibility and creativity of jazz. Socha's nimble acoustic picking results in a racy melody as his harmonica gruel fills in the rest of the space like a grumbling wall of sound.
A Socha original titled "Almere" travels a world music path. Named after a city in the Netherlands, the tune feels international in its foreign tones and in the accented acoustic guitar notes. Socha's chords move with a swiftness that suggest a fast journey. Schmitt's upright bass notes feel and sound like graceful footsteps, suggesting a late evening slow dance with a pretty Dutch girl. It seems like the two are playing at different tempos but strangely make their instruments mesh.
Hoagy Carmichael's "Georgia On My Mind" becomes a breezy pop blow fest coming through Socha's expansive harmonica line. After setting the tone with a gentle run of melodic pop on his acoustic guitar, Socha sends his main melody line through his mouth organ, unfolding it with beautiful strides, a lot of notes conveying a lot of emotion. All along the way, Schmitt offers as much tenderness with his low end notes, whether supporting the easy going guitar or the gusting harmonica. Perfect. Carmichael himself might have noticed this version among the gazillion out there.
Returning to blues forms, the two step into "Good Morning Little Schoolgirl." Seesawing harmonica notes and tender acoustic guitar notes build up this one's amicable tone. This song has the same feeling we all have on a fine day when we get to say good morning to a young school girl. We're going to be happy for the rest of the day. As on other tracks on this album, it's uncanny how Schmitt follows the feeling of the upper registers as much as he follows the notes. He gives his upright bass lines as much personality as Socha injects into his harmonica lines and acoustic guitar runs.
Bringing a slice of his Italian heritage into his work, Italy born Socha interprets Renato Carosone's "Tu Vuo Fa L'Americano" for his own modern day blues audiences. Like most Mediterranean tunes, the melody line is loaded with as much rhythmic hop as melodic guide. Socha nails the intervals of lilting, dancing notes on his acoustic. Schmitt bops along to the melodic line with his own fearless run of notes, daring to make them rock a little while keeping faith with the song's initial intent.
Schmitt's own "Waltz For Katja" is the close out track. A weepy harmonica line sets the pace and the mood. Evenly plucked bass notes feel and sound forlorn, a wellspring of emotion that is just out reach. It also feels that the New York City based duo are saying farewell for now to their listener.
Socha and Schmitt have recorded a fine document of what the two of them can accomplish within a pared down recording. Thankfully, Socha, who moved to New York City a year ago, still returns to visit greater-Boston often enough that we don't have to miss him. Hopefully, he'll bring Schmitt along with him and play some choice cuts off of this CD.