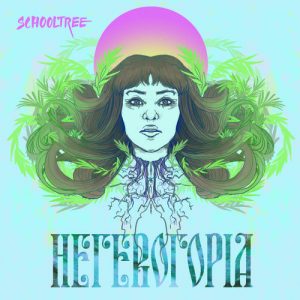 There is a lot that can be said about Lainey Schooltree's new artsy rock opera double disc CD Heterotopia. It's densely layered with instrumentation and vocals that keep it compelling from start to finish. Hearkening back to the days of Genesis' The Lamb Lies Down On Broadway, Pink Floyd's The Wall, and King Crimson's In The Court Of The Crimson King, Schooltree has come up with a highly imaginative work with an accessible, relatable main character that all can sympathize with. Though Schooltree sends her protagonist Suzie through a nonphysical or metaphysical journey, the composer-songwriter keeps her in the every day single young woman mindset.
The opening "Overture" is a piano fest gone wild, recalling somewhat The Who's more ballad moments on Quadrophenia. Schooltree bangs out piano chords, taps out more subtle notes in between, breathlessly leading a guitar, a bass, drums, and a second keyboardist who handles organs and synths. Among that mix of instrumentation is sliding, slipping lean guitar notes, speedy thumpy bass notes, and propulsive drumming. Schooltree has her listener caught up in her gripping music and its busy, multiple moving parts. Guitarist Brendan Burns, bass guitar player Derek Van Wormer, drummer Tom Collins, and second keyboardist Peter Danilchuk round out the Schooltree lead band
Protagonist Suzi is a "Rocksinger" struggling to make a career and a life for herself in a post-rock and roll world. Her theme song here concerns itself with her quality of being an underdog who fails to see she's out of touch with her times and goes to extreme measures just to get by. Schooltree's sweet high vocals underscore Suzie's underlying charms and help make her a sympathetic character. Part melodic joy fest, part driving rocker, "Rocksinger" jumpstarts the action of this rock opera by describing and highlighting this engaging character.
"The Big Slide" is an ethereal thriller. Schooltree makes us feel something heavy and overwhelming coming at Suzie. Schooltree's higher vocal range and sustains create a feeling of something large and moving. Her eerie keyboard melody strikes a touch of foreboding in the air, punctuated by momentous guitar chords and explosive rhythm section work.
"Cat Centipede" starts out as a fine rock piano ballad, complete with an edgy organ line riding over the first set of keys. It soon turns into a horror rock song focused on a creature that can startle as well as unsettle humans. Contrasting with Schooltree's impressive, shiny vocal is a spooky undercurrent in her keys and a switchy guitar riff from Brendan Burns that makes one feel a sense of unstoppable motion. It's a very effective piece. I feel like I just ran away in terror from the creature, took a wrong turn right into its path, and Schooltree is singing the funeral music at my service.
Eventually, Suzie falls into "The Abyss," a kind of primordial netherworld in which she is removed of her physical body while she drifts through her new world an a disembodied spirit. Assertive vocal coos, a climbing guitar motion, and a breath of recycling synth sounds are just a few of the elements that make this tune glide in perfect motion to its harrowing destination. Like many pieces on this album, "The Abyss" takes different shapes and forms as it progresses forward, presenting a fine kaleidoscope of colors and tones.
"Radio" might be one of a few actual radio hits on this album Schooltree could send to local stations. Commencing with electronically enhanced baby coos, this soon turns into an engaging, racing match between hard charging guitar rocker to sweet choral ethereal pop. The changes make it catchy as Schooltree increases her allure with sharper vocal accents during the rocking portions.
"Walk You Through" has even more of a rock edge. The piping organ line reminds of 1970s art rock while a synth, guitar, and vocal expression remind of 1990s bands like The Cure, The Cult, or Soundgarden. It's uncanny how well Schooltree can borrow textures or colors from other genres and sew them into the proceedings of her storyline.
"Edge Of A Dream" commences with a piano line that's at once compelling and disquieting. At ballad pace, Schooltree and her band mates manage to inject numerous eerie colors and tones with both voice and instrumentation. Simultaneously swaggering, a rock and roll attitude can also be felt in this number, a vibe that keeps the song fun, accessible, making the listener realize that these two discs in Heterotopia can be simply enjoyed as several minutes of good music even if one isn't following Schooltree's deeper, metaphysical meaning of life storyline.
Light, airy keyboards make "The Leitmaiden" a strange journey into an unknown space and time. Schooltree's haunting vocal and ever eerie keyboard keep this a dark, harrowing place. Likewise, "The Legend Of Enantiodromia" continues along a similar theme. While a little more bumped up than "The Leitmaiden" with drums and bass, it gives us more knowledge of the spiritual place that Suzi has found herself in. Schooltree's rangy vocals, sustains, and coos fill in the musical spaces nicely, coloring it all to keep the listener in this world of her own creation.
This first disc closes with "Specter Lyle," a more uptempo loaf of springy keyboard magic and driving, edgy guitar, bass, and drums. Infectious in spirit, it moves with wildcat speed and agility as Schooltree swirls a fine synth line around fiercer instrumentation. At once urgent and otherworldly, the listener can glimpse inside the mind of a songwriter who has been influenced by the art rock of the 1970s. The narrative of the story has brought Suzi to another key turning point in her journey and we accompany her as she travels to a gripping twist of lead guitar and synth.
More rocking and rhythmic, the hip, swaggering "Dead Girl" is another suited for radio. It's catchy, with nice harmony vocals, a hooky chorus, gripping guitar work, and an infectious groove. A great start to the second half of the story, one is intrigued by Schooltree's electronically enhanced vocal and Brendan Burns's grinding, smoldering lead guitar phrase.
Schooltree goes vocal lush and pop vibrant on "Turning Into The Strange." With a jaunty beat and a floating vocal line, she guides us into another part of her imaginary world with colors and tones from the more pop rock end of her palette. Granted, even Schooltree's pop rock had an edge on this album, but she keeps it changes within that shiny art rock mood.
"The Edge Annihilate" slowly boils into something gripping, all powerful from an easeful piano commencement. Along its graceful journey, Schooltree keeps it bright, glistening with her high pitched beauty and depth of purpose.
Taking the listener into a burning rock and roll sensation, "Power Of The Ghost" jumps up and grabs the ears with a punchy groove and a piercing, spiking lead guitar phrase. Well suited for radio, it will have fans of album oriented rock bobbing their heads in admiration of Brendan Burns's finely executed line while tapping their toes to the high stepping groove and slapping electric piano chords.
"You & I" is an edgy, ethereal pop tune, one with a mountainous build up in delivery, stylishly different enough to keep this album a mad hatter's mix of styles. A ringing synth line a screamy guitar phrase keep it anthem strong in tone and vibe.
"Into Tomorrow" boldly introduces itself with stirring lead guitar and synth. Schooltree's vocal delivery is large, wide, towering over her own sonic landscape of pushy rock and film score-ish keyboard work. This tune could accompany a perilous movie scene, with a character skittering on a precipice between life and death. Slabs of rhythmic punch make one feel the impact of what's going on inside Suzi's extraordinary out of body experience.
"The River" is a transitional piece, effectively conveying a shift in Suzi's storyline with lush, electronically enhanced vocal and synths. It's a dense piece that Schooltree seems to be singing to us from another dimension through an ultramodern device that lets us glimpse into the other side. "Bottom Of The River," with its contrast of dark and light piano chords, lush choral, and considerate spacing, is another fine piece of journey mode for our protagonist.
"Enantiodromia Awakens" is a space age conversation between protagonist and ethereal guide. An electronically enhanced speaking voice accompanied by a slow urgent synth line stirs a sense of foreboding in the listener.
"Zombie Connection" is a mid-tempo rocker and an important part of the connective tissue in Suzi's storyline. It's also one of those songs that grips you with its inner strength, a persistent energy that doesn't need a bucking groove or spiking guitar line to keep one glued. Its overriding arc is a guitar line and a piano melody that feel larger than life without explosive bombast.
We get some of those melodic pulses in the dramatic "Keep Your Head," a considerately paced unfurling of enhanced vocal and lush synth punctuated by sudden drops of heavy groove. "Day Of The Rogue" brings Suzi a little bit closer to her journey's end, an involving piece that carries well on the strength of Schooltree's vocal glide and all that she tugs along with her.
Close out finale, "Utopia" has a flexing keyboard line that creates pleasant ripples in the sonic landscape of this appropriately light end piece. One can feel a sense of dramatic resolution amidst this pop rocker. It feels like a summing up of an experience as it rides off on a ray of light airy vocals, floating synth lines, and gentle, ballady piano work.
Schooltree has emerged triumphant with this dazzling two disc masterwork. Her magnum opus will likely catch fire with online shoppers of prog rock. Those folks around the world who have been following King Crimson, Yes, Genesis, and The Who's Quadrophenia since 1969 will, once they discover this, punch in their credit card numbers to purchase their very own copy. Schooltree's band, producer Peter Moore in his Palace Of Purpose recording studio in Malden, Massachusetts, and the composer's entire creative world come together in one shining example that art rock and prog rock can still be successful and still be beautiful.
https://www.facebook.com/heterotopiarockopera/