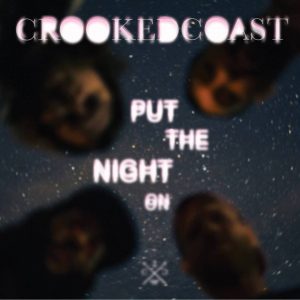 It is hard to define what Crooked Coast is all about. This Cape Cod rock band begins this new CD Put The Night On with a rapper doing his rap thing over an acoustic guitar, drum set tinkering, and the usual rap beat. After this initial intro, Put The Night On turns into a rock album, though the term rock doesn't completely cover everything going on with this band of Cape Cod musicians.
"Go Slow" commences with a powerful vocal coo before relaxing into a new ska beat. A lead singer takes turns with a rapper, switching vocals for rap when appropriate. The vocal is soothing and the band's ska approach make this an inviting song. While it is difficult to label this by genre, it is not difficult to enjoy what's going on. The beat envelopes it all warmly while an electric guitar widens the song, making it even more inviting.
The beat, groove, and lyrics on radio ready "People Say" are completely irresistible. Ushered in by a twitchy guitar riff, this tune makes one want to dance and or just jump up and down with glee. A smooth flowing vocal carries the listener through the chorus like a cheerleader leading a crowd through a team anthem. A chirpy, upbeat attitude in the vocal tones and cheery lyrics put on a smile on one's face while one already enjoys the forward momentum of this tune.
"Cape Cod," a song about the band's locale, rocks all the way through. Its speedy tempo, gliding melodic guitar line, flowing lead vocal, and peppy beat make it festive joyride. "California," a more bombastic guitar affair, is a call to action. Its primitive groove and flinty chords makes one picture an action scene. The lead vocalist announces the lyrics as much as he sings them. Guitar chords feel like an explosive charge within some of the tenser meters. One can picture movie heroes walking towards downtown to face off with the outlaws as the music builds up toward something climactic.
"Akrasia" is an unusual term but the song is solidly rooted in affirmative lyrics and catchy, funky. A mid-tempo foot tapper, this one can get everyone jumping at the disco. Its tight musicianship gives another edge to this song as the singer drops lyrics with an understated charisma before belting with wholehearted enthusiasm.
Taking things more slowly, "Dead Presidents" playfully mourns the demanding hours and demanding jobs people tolerate to rake in those ones, fives, tens, and twenties. Edgy, buzzy guitar chords pepper this song with plenty of expression as the singers exclaim the dubious value of the money they are earning. Bass guitar rolls are embraceable as they playfully, warmly move the song along.
"Fall Asleep" builds up from a scratchy guitar riff into a persistently pleasant mid-tempo groove. Boasting a floating chorus concerned with quirky lyrics, this song scores with its own weirdness. A bleating lead guitar phrase and a somewhat deranged sounding vocal tone add much to the fun kitsch quirkiness.
"Take Me Home" gets its flavoring from an isolated electric guitar that seems to play at us from another dimension. That tone opens space for a wide, arcing vocal narrative and for a lighter melodic guitar in the foreground. Tasty nuggets coming from the bass guitar and drum kit fill this ditty up with plenty of sweet sounds.
A breezy, catchy guitar driven number titled "The Wave" skips along its own merry beat. A peppy groove and bright guitar riffs and swift vocal clips finesse their way into the listeners' consciousness with polite hipness.
Crooked Coast close out their album with "Trying," a slow boiler that lures one in with its easeful, mellow intro before expanding into a puffer fish of an anthem. Suddenly, the song swings more widely and more unwieldy, in a good way. One can feel the emotions of the song swell along with its expanding structure, creating a special draw with its range of expression and vibe.
Crooked Coast have come up with another album of fun, catchy, good time vibe music. Put The Night On will only expand their audience and increase their visibility.