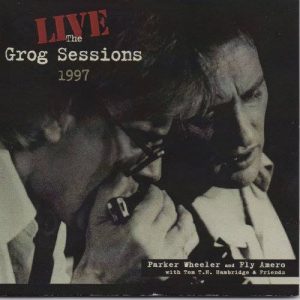 Parker Wheeler and Fly Amero with Tom T.H. Hambridge & Friends recorded this disc Live: The Grog Sessions 1997 to document what was going on during the first decade of this now 27 year old Sunday night blues jam. Combining the talents of Wheeler, Amero, and Hambridge with several other New England blues scene notables resulted in numerous Sunday nights of fantastic music. This 12 track disc, as good as it is, serves up only a slice of the quality music served up in the Newburyport, Massachusetts venue over the years. These old recordings were recently discovered and put on this recently released CD.
Fly Amero gives opening track "Lolly Pop Mama" by Samuel a raw, soulful vocal treatment on the opening verse before handing the microphone over to the jam's co-leader leader Parker Wheeler. In between the belty blues vocals, one can hear the svelte saxophone work of Amadee Castenell. Scott Aruba's trumpet melody makes a shiny, vibrant appearance and Wheeler's bracing harmonica boogies around the vibe with aplomb. It's also what the boys do with the interplay of lead and backing vocals that make this number move with style.
Gordon Beadle toots his own mellifluous horn line with graceful flair on his original composition "DD Rider." Beadle just makes his wavy sax line dance around the beat with loose but energetic hipness. That inspires guitarist Amero to press out his joyful phrase of funkiness. Tom West layers another heaping of fine gravy over the groove with his sterling organ work. Soon, Beadle retakes the spotlight with his fine touches of the sax to give this number a nice and tidy close out.
Amero contributes his own "Sexy Little Things" to this recording. This one ambles along, taking its own sweet time, thanks to Tom Hambridge's gentle, coaxing drum smacks. David Brown gives it a swaying, rambling lead guitar phrase that imitates the way horns can move a melody around. Amero delivers it with a subtle vocal tone and an easeful way through his verses. The song keeps one glued to its motions all the way through.
"My Babe" don't stand no chance of failing, not with the talent Wheeler had lined up to play it. Guitarist David Brown and saxophonist David Sholl keep it jumping with their individual snap, keeping it fancy and free, arcing over the groove laid down by drummer Tom Hambridge and bassist Wolf Ginandes. The boys all do justice to this Willie Dixon classic.
The greater-Boston/New England queen of the blues Toni Lynn Washington graced some of the jams back in the day. Ms. Washington sings a medley of "Slippin' An' A Slidin'," "Keep A-Knocking," and "Roll Over Beethoven," making her way through their catchy vocal lines with her usual classy assertions. She also, in her own subtle way, welded the three pieces into one, making the songs her own.
Parker Wheeler offers generous amounts of his tuneful harmonica playing and his raspy, bluesy belt on "She May Be Your Woman," a tale of audacious infidelity. His harmonica work finds him equally passionate and stylish, blowing a line that cycles back on itself by stomping along with the beat, resting briefly at particular intervals before beginning anew with a longer stretch before a rest. Wheeler keeps it dye in the wool blues and his support from sax man David Sholl is also impressive, a horn line that furthers the message with a wide, appealing melodic thrust.
Wheeler's jam band tackle Al Green's "Take Me To The River" with more blues edge than the original. Tom West's hard hitting organ line has a force and verve that makes this song move. Beadle's sax swings into action with its rich, swaying line zig zagging around the beat. Ginandes and Hambridge get into a special groove, the kind that hums with potential and makes it possible for the other instrumentalists to accomplish anything on top. Fly Amero's lead guitar is a high flying fancy, a melodic phrase that seems to move with a freedom usually found in jazz.
New England legend James Montgomery provides plenty of talent with his lead vocal and harmonica on Bo Diddly's infamous "Who Do You Love." Over that familiar Bo Diddley beat Montgomery sprawls out with a blues harp line that's loaded with high pitched beauty and shine. His vocal is cool as hell, his soft timbre wrapped around the words like honey poured over a hard surface. If that isn't cool enough, Amero's cantankerous lead guitar line speaks its mind, giving off sparks in each meter.
"Cadillac," Hambridge's original, feels like something out of the oldies period of rock and roll. The beat is simple. Bruce Bears taps out a lively, rockin' piano melody before opening the space for Amero's flinty guitar snaps. Hambridge sings it with a youthful, amicable enthusiasm that coats the whole thing with his chirpy resonance.
David Brown makes a sharp reappearance on "Got My Mojo Working." He cranks out a feisty, bursting guitar line as an intro then goes on to maintain the song's rhythmic click. This blues classic gets a lot of help from its two stepping rhythm section as well as Wheeler's harmonica gruel, and Amadee Castnell's blaring sax. Hearing all of those players interacting, weaving a mesh of blues heft, is a treat for the ears and the soul. This song could certainly take the frustration out of being frustrated and the bands plays it with a spirited abandon that works well for them here.
Many say that rock songs are really blues songs at heart. Wheeler and his boys prove it with their rendition of "Golden Slumbers." Fly Amero finds the blues with his rich rasp at the microphone. He emotes like nobody's business on every verse. Tom West floats by with a tender organ line. Parker Wheeler augments with a weepy harmonica line. It's the tender musical underside that highlights Amero's effusion of feeling and mountainous build ups during the chorus.
Wheeler and his jammers close out the disc with "Brand New Mustang," an original composition co-written by Wheeler, Amero, and Hambridge. It's a swirl of everything good that came before on this compilation of jam sessions at The Grog. Flinty guitar riffs, horn shots, drums smacks, low end runs, and a whole lot more play in a tight, disciplined fashion even though the melodies are free wheeling and the groove is irresistible.
Wheeler, Amero, and Hambridge along with a bunch of rotating participants came up with a swell of very good live music played by very good local musicians. The response to The Grog's Sunday night jams has always been very strong. This disc provided a useful glimpse into the talent and vibe that makes that jam a huge success. Wheeler has a special version of his Friends Of The Blues Party coming up to celebrate this disc. Click link below for me detail.