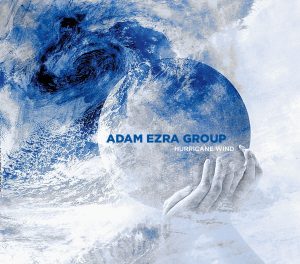 Adam Ezra Group's latest album Hurricane Wind was an interactive recording project with their fans. AEG posted tracks as they were recording them during the various stages of development, and the fans chose which tracks made the album. It is not surprising that this very audience friendly band would let their fans choose the final tracks. As the fans are quite familiar with the bands music after years of faithful following, it's also no surprise the fans did a fine job of winnowing the album down to the finest tracks. Having pop superstar John Oates along for the ride on three tracks certainly didn't hurt. It's one of the band's best recordings ever.
A polished, funked up piece "100 Year Storm," opens the album. Ezra emotes forcefully and soulfully above riffy guitar, crackling percussion, and a danceable drum beat. R&B flavored keyboard work and background vocals and coos layer this motion filled number with some dark foreboding while the drive of the song feels like the courage one has to move through the storm. Many moving parts are flying about with criss crossing connection to each other and the action packed number stirs the soul, motivates the feet to move, and inspires the imagination with its barely contained fury.
"All I Am," featuring pop world superstar John Oates live is a dandy of a vocal duet between Ezra and Oates. Their voices blend as if they'd been singing together forever. With only sparse accompaniment from acoustic guitar and percussion, their two voices intertwine in this meaningful reflection on life and one's personal existence.
"Goin' Out Tonight" is a fine mix of banjo grit, drum and percussion punctuation, and fiddle flight of fancy. Ezra croons in his crisp timbre coolness and leads his merry band through tasty nuggets of instrumentation. Josh Gold's light piano tinkling tickle the ear and move the song forward with their shiny spikes. Corinna Smith chimes in with her lofty fiddle melody, a line that's as pretty to hear as it is comforting for its familiar Americana feel.
"I Believe" is a story of hope that Ezra delivers in the form of a personal folk ballad. Crooning steadfast, emotive, Ezra reaches the spiritual heights of a gospel chorus. Surrounded by a choir of backing vocals and a Josh Gold mounting organ lift, he keeps this number wrapped in a climbing motion. The listener can feel this song taking him to a higher plain and that sense of lift and of purpose are even more significant accomplishments than the individual touches of fine talent.
"Juna Please," another co-written and recorded with John Oates, is a mid tempo rocker graced by Josh Gold's classy electric piano melody. Ezra infuses it with his usual slightly rasped, handsome vocal. It's always been difficult to pin down exactly what makes his singing voice and delivery so appealing and so successful as it's one of those things wrapped up in individual charisma. His brief sustains give each verse a personal vibe as well as a sensation of the song taking the listener to a special place. When he slows it down over the keyboard line, he comes across like a close friend leveling with you about something deep. When his vocal builds up in force as he delivers his chorus, he takes things closer to the blare of a clarion call.
Written for an Adam Ezra Group cause a few years back, "Let Your Hair Down" stirs the emotions with its mellow contemplation of the brief, joyful moments in life. Corinna Smith's fiddle melody leads the song forward as its nuggets of banjo, keys, and groove(Francis Hickey on bass) add their own individual grit to this theme. Ezra is clearly feeling it in this one and he lets us know it. He jumps into his chorus with a personal, soulful force. He's calling on us all to enjoy the moment and it's impossible to resist his inspiration.
"Life Of A Thief" is more of a hand clapping, foot stomping folk-rocker. Ezra is a worldly hipster here, delivering his street wisdom with throaty rasp and sly twists in his lyrical assertions. His vocals, backed by a nimble banjo line and the lift from the rest of the band, make one feel the action that's going in this story. It would make a good film score song, probably when the title thief is pulling off a heist.
Another of AEG's brisk rockers is "Steal Your Daughter." It goes over big during the band's live shows and it's well recorded here. Aside from Ezra's sly, smoky vocals and adventurous chorus, the band flavors it up with Alex Martins steel trap drum beat and the percussion line that Turtle pushes through the open spaces the drummer leaves open. The two make it feel like the song is marching toward an inevitable fate. Corinna Smith's fiddle sizzles with dramatic tension as the protagonist is readying to ride off with an innocent young woman who won't remain innocent much longer.
"The Toast" is a celebration of life. This acoustic guitar driven number spreads far and wide with its warm vibe and upbeat message. Ezra lyrically ties together everything that life, love, friendships, and the world has to offer, and he sings it with a passion that lets you know he means it while making the listener feel exactly what he is singing about.
"Truth In The Wine," the third track co-written by and featuring John Oates, finds Josh Gold tapping out a fine piano line over a plucky banjo and Corinna Smith's moody fiddle parts. This number travels in a gentle but sweeping manner, like a huge cloud taking its time riding a breeze across the sky. Ezra unfurls his vocal sprawl with considerate phrasing. He manages to milk each note for all its worth while letting his voice breathe in this down tempo piece.
Closing track "You Speak Girl" benefits greatly by a youth chorus made up of over 15 people. Their chorus makes this number even catchier so Ezra can focus on his solid vocal work and acoustic guitar lead. His folk-rock approach over the poppier youth chorus gives him a stronger presence and that makes him a serious focal point with a serious message.
Adam Ezra Group has come up with another successful folk-rock album. The folk-rock label isn't completely descriptive as the band infuses their songs with elements that remind, somewhat, of R&B and soul. Including John Oates in this project was a wise move. The pop star's involvement allows the group to expand their sound with his own ideas and influences. Hurricane Wind is a strong effort and some of its songs have already been going over well in the band live shows. As AEG is offering it as a free download until June 18, they're sure to move a lot of copies and win over scores of new fans.