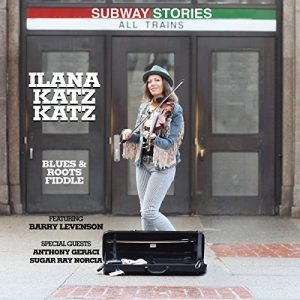 Ilana Katz Katz is a fast rising star in the greater-Boston/New England blues scene. Her last two album whet the regional crowd's appetite. Her numerous live appearances, including many in the city's Red Line subway station, have heightened her sense of presence. This third album, produced by Barry Levenson of Canned Heat fame, manages to preserve the integrity of Katz's Appalachian folk and Delta blues influences and techniques while offering a hipper, edgier vibe this time around. She co-wrote with Levenson most of the songs while interspersing a few tasteful traditional ballads.
Katz swaggers into the CD with her original "Don't Forget." Her moody, arcing fiddle melody and saucy vocal line set the vibe. Levenson's electric guitar line gives a layer of edge, shadowing Katz's springy, tuneful fiddle, creating a hypnotic counterpoint. Katz's vocal has its own kind of attitude, suggesting it's a good idea to remember the names of the blues greats who came before her and inspired her generation to play that timeless, soulful, moving music born in the Mississippi Delta and carried forward into Chicago.
The traditional tune "Riley And Spencer" finds Katz singing with more of a honky tonk mama attitude. Her fiddle phrase shimmers with grit, emotion, swaying boldly over Levenson's brittle lead guitar work. Katz and Levenson also capture the old time roots vibe of this song. The two understand how the song fits into the attitudes of the time it was written and bring forward its harrowing message for a new generation.
Another original, "Subway Blues," showcases the twanging harmonica talents of New England's own giant, Sugar Ray Norcia. All of the elements here, Katz's voice and fiddle, Levenson's lead guitar ripple, and Norcia's lilting, rangy harp line, are drenched in pure blues tone and technique. We can feel this number ushering us toward some kind of sorrowful end up. Mike Sandberg's drum work and Hank van Sickle's bass give this a nice forward march, furthering the inevitableness of this affair. Katz's vocal here has its own unique appeal, a kind of lilting gait that's loaded with soul and laced with foreboding.
Katz's opening fiddle line on the traditional "Motherless Child" stretch the song from its folk origins into a more bluesy world. Her melodic line is colored both Appalachian and Delta. Her voice, silky smooth, just glides over the accompaniment while coloring the song with tons of feeling. She makes you feel this one, and, the support from the others punch it into shape with as much texture as the fiddle and voice.
Getting back into original material, Katz sasses her way back into "Poison Days," another steeped in blues tradition. She fills this one up with fiddle sound, her instrument playing a wide, arcing melodic line that dominates the soundscape. Then, with a true artist's flare for inclusion, she finds the right moment to let Levenson take the lead with swiftly running line of snappy lead guitar notes.
Katz and her merry men tackle Levenson's "Like A Wino," a rollicking blues number, complete with Anthony Geraci's Chicago blues piano work. Levenson had written this song earlier on but felt it would be a nice addition to Katz's album. He was right. It gives Katz a chance to show what she can do with more up tempo blues gusto. She rocks it up with jumping, thumping class, her smooth vocal hitting all the right spaces in this fun piece.
Katz and company ease their way into a breezy rendition of "Ice Cream Freezer Blues," written by Roosevelt Sykes in the late 1930s. Like the original, it features plenty of bar room piano tinkling, handled here by the tireless Anthony Geraci, offering plenty of late night sexy vibe. Katz sings the suggestive lyrics without a trace of slyness, making them all the more suggestive. Her voice and fiddle are greasy smooth, furthering the hipster vibe and old fashioned bluesy flavor.
Levenson's "Requiem" proves a valuable work out for his jazzy guitar picking as well as Katz's frisky, lilting fiddle line. The two instruments contrast well with one another, picking and bowing, while also flowing together well with their colors and tones.
Katz and Levenson offer a "Tribute To Slim Harpo," a number where Sugar Ray Norcia's high stepping harmonica style really comes in handy. His harp phrasing and Katz's soothing sultry vocal recall those days when "Tina Nina Nu" was a blues radio staple and music of this quality was taken for granted. She just finesses her and Levenson's lyrics with an understated strut. Her fiddle line joins the party, too, with a persistent hum, segueing into Levenson's tender guitar parts.
Levenson's "The Excuse" becomes another fun instrumental workout on this Katz album. Bass and drums pump out a consistent, motion filled groove so Katz can bow her way into an interesting fiddle take on the main melody. Levenson's feisty guitar line makes its own fine impression with the nimbleness in which he picks numerous notes within each meter. It's all so springy, jazzy, grooving', something that suggests slyness and action at once.
Katz's "Road To Nowhere" gets plenty of boom, boom, boom from Hank Van Sickle's supple bass playing. It gets lots of zippy melodic clip from Katz's fiddle, Geraci's icy cool piano touch, and Levenson's fluid guitar picking style. Katz sings it in more of a jazz vocalist's improvisation, like she's singing it on the fly and doing well by instinct. All of these elements come together to make this one pleasantly breezy piece.
Another original, "Don't Cross That Line," is a sassy vocal application backed by assertive fiddle and electric guitar. Katz puts her man on notice with a bit of spunk in her voice and some jumpiness in her fiddle work. Her old time chorus and traveling melody give this a jaunty, spirited sense of fun. Meanwhile, Levenson gives it an artsy edge with his more incisive guitar line.
Katz closes out her album with the traditional ballad "John Brown's Dream/Subway Light Of Mine," with the second half of the piece being her own concoction. Katz bows up a storm of folksy melodic stomp before nailing the spirit of her song singing acappella. One can feel the history in this song as Katz finesses every nuance that has grown into it over the last one hundred plus years.
Katz has outdone herself on Subway Stories. She takes the blues and Appalachian folk idioms and turns them into something with the kind of edge and verve this kind of music has always hinted at. Bravo.