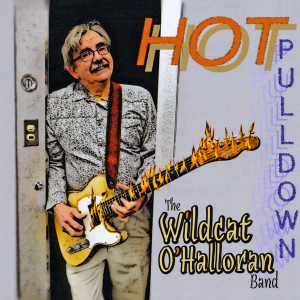 The Wildcat O'Halloran Band are at it again. They've come up with another disc of fine, cruising, soothing, and sometimes stomping blues with this Hot Pulldown album. O'Halloran showcases a lot of lyrical wit in this mostly originals CD while his guitar, vocals, and his crack support band put things across in edgy, feisty, bluesy style.
Title track "Hot Pulldown" opens the disc with some twisty guitar phrasing. O'Halloran goes to town pressing out a lean, mean phrase, pulling his rhythm section along with his persistent variations in range, tempos, colors, and tones. His sharp, clean phase gets even feistier, jumpier, and twitchier as he moves it forward.
"Shaped Like A Woman" is another of those blues song that complains about the opposite sex. O'Halloran's metaphor is that the guitar's hourglass shape is about the only thing the instrument has in common with them. This guitarist finds his guitar more loyal. His witty lyrical theme comes across well with his mellow, understated delivery. He also serves up nice slices of guitar riffage, each emission of guitar giving another hip bounce to this piece.
"Sherlock Holmes" is a classy, down tempo blues. O'Halloran emotes coolly, telling a tale of romantic loss with his rasp in an easeful glide. Saxophonist Emily "Dr. Luscious" Duff unfurls a forlorn, mournful melodic line, one that finds a good home amidst O'Halloran's flinty rhythm guitar and dejected vocal tone. Because of the vibe of this song, one can easily picture the rejected partner drinking away his sorrows and or walking lonely down the sidewalk after midnight.
"51 Right, 49 Wrong" is a bracing, traveling piece of blues. O'Halloran keeps his guitar edgy, rough, but rhythmic. He takes a lot of twists and turns in his melodic journey but keeps his ride roving, in motion. It's like a bar band vibe except the bar band plays much better than your average bar band.
O'Halloran comes up with a new twist of Jimmy Reed's "Honest I Do." Here, his own lead guitar playing and his guest harmonica player Ottomatic Slim play the timeless melody with flinty, snappy accents. This keeps the oldies pop flavor at the base of song while turning it into a bluesy bar band type of thing.
O'Halloran has his way with Lightning Hopkins's "Prison Blues," picking off sharp acoustic blues guitar notes. The chord progression here has a rocking chair groove while the melodic climb twists and turns with subtle shifts in direction. This is just a tasty slice of old fashioned acoustic blues.
"Mr. Magic" brings O'Halloran right back into snappy, electric blues. His band provides an alluring backbeat while Duff blows a mellow, traveling sax line around the catchy groove, paving the way for this smooth R&B workout. Ken Maiuri lays a fine organ swirl while second guitarist Devin Griffiths punches things up a bit in the rhythm section.
O'Halloran finds the perfect expression for his kind of music with another of his fine originals, "Livin' In A Blues Song." He describes the equal traumas of losing his woman and his Cadillac with feisty, grinding red hot guitar phrases and his charming rasp. Again, there is something in the backbeat that also keeps us listening. Drummer Joe Fitzpatrick and bass player Matt McManamon keep it engaging with their action packed groove. It's a groove that lets O'Halloran skip around on top with his lean, mean phrasing.
"Here I Am" by the great James Cotton has the bumpiest, most thumping groove on this disc. Tight, self-restrained, the rhythm section pump out something that both O'Halloran and harmonica man Wally "Sweet Daddy" Greaney can go to town over. Exciting stop and start motions as well as with twisty phrases keep this one in beautiful curlicues of motion.
"Buy A Dog" is a mid-tempo joyride thumper through a litany of complaints about a former lover. Twitchy guitar and lilting harmonica lines crisscross to form the substance of this song. O'Halloran sings this ditty in a low key manner that lets his witty lyrics speak for themselves amidst the fine musical interplay.
Close out track "Separate Words" informs of the difference between work and fun, complete with O'Halloran's guitar phrase unfurling in freewheeling fashion beneath his plaintive rasp. Both vocal and guitars makes this song a fun piece, one you'll be sure to get a kick out of as the rhythm section kicks this forward with a snapping groove.
The Wildcat O'Halloran Band have come up with, on this Hot Pulldown disc, a fine bluesy concoction of standards and several originals whose lyrics range from old fashion styled to modern and witty. The musicianship backing the voice and the words are solid, tight, and always a blast to listen to.
https://www.facebook.com/The-Wildcat-OHalloran-Band-132034760198877/