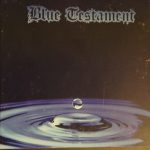 By Bill Copeland on September 20, 2017
Some years ago, greater-Boston vocalist and harmonica player Brian Templeton got religion. The gentle giant, already a pleasant fellow to begin with, accepted the salvation that many musicians of our generation have accepted. Templeton expresses his faith and spirituality on this album Blue Testament. Whether or not fans of Templeton's oldies rock and roll, vintage country, or blues feel the faith as deeply has he does, they should enjoy this work of powerful bluesy, rockin, swinging music. Not too many people can make gospel rock like Templeton can. It doesn't hurt that Templeton has drummer Lorne Entress, keyboardist Dave Lamina, bassist Ed Spargo, and guitarist Lyle Brewer along for the ride.
Posted in CD Reviews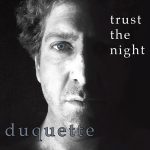 By Bill Copeland on September 13, 2017
Duquette's latest CD Trust The Night is an unusual amalgamation of roots music and edgy, classic rock idioms. While his combination of genres and the strong musical personality he uses to weld them together make his music hard to pigeonhole, it also makes his music easy to like. There is a freewheeling sweep of musical styles that come together brilliantly and perfectly in each track.
Posted in CD Reviews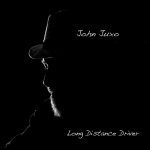 By Bill Copeland on September 7, 2017
Rhode Island musician-singer-songwriter John Juxo has recently released what might be this year's best New England blues album. Long Distance Driver is at least one of the best to drop in 2017, Aside from offering his own raspy vocals and charming keyboards, Juxo has friends like singer Lisa Marie, saxophonist Myanna Pontoppidan, acoustic guitar player Alex Krepkikh and other area favorites helping him pump out tasty, greasy, toe-tapping blues numbers.
Posted in CD Reviews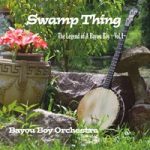 By Bill Copeland on August 29, 2017
Swamp Thing — The Legend Of A Bayou Boy –Vol. 1 is an album of songs written by south of Boston musician-singer-songwriter Greedy Geezer. Greedy Geezer is the fellow who hosted a monthly Friday night jam of Americana musicians at Quincy's Granite Rail Tavern. This album, recorded with musicians from those Friday night extravaganzas, reflect the Geezer's interest in Americana roots music and early rock and roll. There's plenty of guitar, bass, keyboards, and drums to keep this CD rocking. There are also plenty of banjo, accordion, and washboard to flavor it up in earthy idioms and rustic vibes. And it's a whole heap of fun and a pile of energy.
Posted in CD Reviews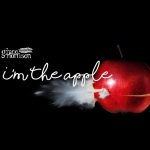 By Bill Copeland on August 25, 2017
Grace Morrison's latest CD I'm The Apple is a treat for the ears on every track. Morrison's bright, chirpy timbre and vocal glide make her a winsome favorite in the local scene. Her songwriting prowess allows her to conjure many fine lyrical moments, and the instrumentation she and her support band lay out sparkle in their own special light during their special moments. This especially true of producer Jon Evans guitar work and the extra texture offered by backing singer John Baptista.
Posted in CD Reviews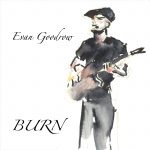 By Bill Copeland on August 16, 2017
Evan Goodrow's latest album Burn makes the most of this local blue eyed soul man's electric guitar talents and svelte vocal ability. Goodrow keeps himself tighter with his trio than he's ever played before, and he throws in a few pleasant surprises with his song selection.
Posted in CD Reviews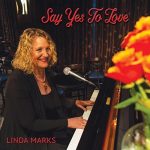 By Bill Copeland on August 15, 2017
Boston's jazz chanteuse Linda Marks has been a fixture on the local scene for some time now. Her new release, Say Yes To Love, will have you saying yes to Linda Marks. Her voice is remarkably bright and tender, hitting the listener's soft spot on every track. Her knack for arranging material from other artists and songwriters is unerring, always offering a fresh perspective that is likable and engaging.
Posted in CD Reviews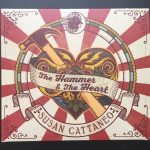 By Bill Copeland on August 7, 2017
There are times when an artist has to move forward in a big way. Boston's roots singer-songwriter Susan Cattaneo went for broke and recorded a double disc CD set. This new album, The Hammer & The Heart, teeming with quality songs and high octane guest musician and singers, should be a huge artistic success, the kind that will gain her new respect and awe from listeners. From the larger movements of sound to the more subtle nuanced touches, Cattaneo paints a large, masterfully portrait of the American landscape while injecting her own personal points of view with an honestly that sometimes soothes and sometimes stings.
Posted in CD Reviews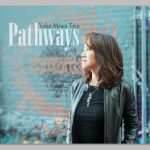 By Bill Copeland on August 3, 2017
Yoko Miwa Trio's latest album Pathways finds the youthful Boston area jazz pianist, composer, arranger offering four of her original compositions as well as four thoughtfully considered arrangements of other artists' work. Miwa and her band play these pieces with more crackling energy and with more of a bopping charge than they played on previous discs. Instead of offering merely a treat for the ears and minds with sophisticated jazz, the trio play jazz that can make one snap his fingers, tap his toes, and bob his head, all at the same time.
Posted in CD Reviews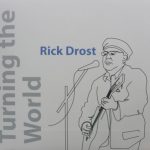 By Bill Copeland on August 2, 2017
Rick Drost just dropped his engaging and interesting folk album Turning The World, and it's hard to stop listening to his gently, quietly appealing songs. This Cambridge, Massachusetts-based folk songsmith has been writing and singing his own songs since his college days in the 1960s. Yet, this is actually his first solo album of his own material, and, as he's no longer a young fellow, all we can wonder is what took him so long.
Posted in CD Reviews